Justin Bieber Inspired Headphones
Monster announced Justbeats by Dr. Dre in-ear and on-ear headphones, a collaboration with pop music phenomenon Justin Bieber and the first headphones specially aimed at "opening the ears" of young music fans to the richer listening experience that comes with high quality sound.
Most young music fans are used to listening to their favorite songs on standard earbuds and computers, having never been exposed to high-quality sound. Justbeats deliver the richer Beats by Dr. Dre listening experience, in a stylishly hip on-ear headphone featuring an eye-catching matte purple finish, Justin's favorite color, and an in-ear version featuring a purple and chrome finish. The introduction of Justbeats is a major step forward in brining a new level of sound quality and the enhanced audio experience of Beats by Dr. Dre to younger audiences.
The Justbeats also offer ControlTalk and built-in Mic for hands-free calling with an iPhone, and pause, next track and volume control of an iPad or iPod. In addition, Justbeats folding design and included case, make them easy to travel with.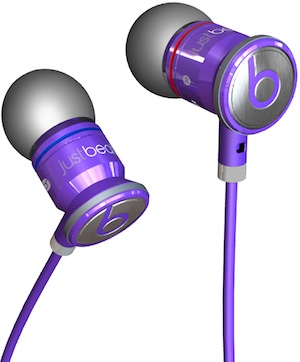 Pricing
Justbeats will be exclusively available at Best Buy for this holiday season.