The New PC-Ultra is the top of the line 750-watt subwoofer from SVS, priced at $1,399
In my first communication with SVS at CEDIA earlier this year one of their reps told me that this new sub would blow away anything that I had. I was very skeptical of this claim. How could a small company from Youngstown, OH compete with world renowned subwoofers? If you picked up the latest buyer's guides from Home Theater Magazine and Stereophile you will only find them listed in one. Why is this? Besides the fact that they are relatively new in the industry, I think they hold back on going mainstream in promotions and advertising. By doing this they can pass on a significant savings which enables the customer to own a subwoofer that would normally be out of their price range.
Do you remember the boxes that your parents would move their coats and long dresses in that had the metal bar that held them on the hanger? If you can remember how big that box was then you know what to expect when your brand new SVS PC-Ultra Powered Cylinder Subwoofer is delivered to your door. Standing over four feet tall and 18″ wide the box was very imposing. Having only the option of buying this subwoofer online became a blessing since the UPS guy will at least drop it in the garage if asked nicely. Then having a handcart handy will help since this mammoth weighs in fully packaged and sealed at 115lbs. If you do not have a garage, good luck. You're going to need a buddy to help you move it in. Make sure to throw a sheet over when you are bringing in because if your neighbors catch a glimpse of the SVS logo on the box you can be assured noise violation warnings are in the mail.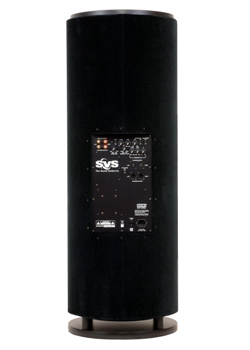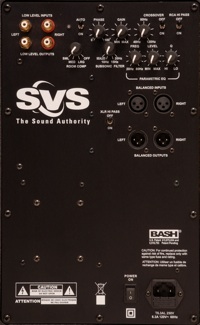 After inspecting the box I noticed that there was a hole from a forklift that had pierced the side two inches off the corner. My heart dropped as I heard the door slam of the UPS truck and he drove away. I expected the worst at first as I unpacked the box. To my surprise, the sub was encased in a cocoon of Styrofoam and various other packaging materials to ensure that no damage would be done to your new toy. Along with all the packaging material was the Owner's Manual, SVS hat, T-shirt, pen, power cord and all three custom port plugs. Once all the styrofoam was out of the way the subwoofer was still wrapped in a small protective layer that I kept on while I struggled to maneuver this 85lbs. behemoth through the garage and on through the basement to my theater room.
Taking the protective layer off the sub I felt like Christmas came early. Of course, after I gazed upon the control panel I felt like I had just received one of those puzzles where all the pieces are the same and it takes forever to put together. I mean this control panel was a smorgasbord of buttons, knobs, lights and connections. My second thought was that I was the operator of a phone company switch board just missing the head phones. Then I found myself grinning from ear to ear at the possibilities for calibrating and integrating the subwoofer into my system.
Usually I am one of those guys who like to unbox and hook things up or put things together without ever opening the instructions – but not today. I reached for the Owner's Manual to make sure I knew what I was getting myself into. The manual is well laid out and was very easy to follow. There are even a few pages of Bassy demo scenes to die for, which are also listed on their website.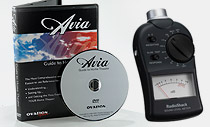 For anyone who has not set up a subwoofer before they can follow the instructions and they will have basic set-up done in no time. If you really want to fine tune your new state of the art SVS sub you will need a SPL (sound pressure level) meter and a test tone source. Ovation's AVIA is a great source for this. Their new AVIA 2 DVD is out now if you are looking for the most up to date version. The tutorials on the DVD will help you properly calibrate the sound and video of your home theater. SVS offers both the SPL meter and Ovation's AVIA 2 DVD free with purchase of a new PC-Ultra series subwoofer (until 12/31/07).
Standing a formidable 47″ tall and 16″ in diameter the SVS PC-Ultra sub demands attention but doesn't take up that much real estate. With such a small footprint this subwoofer can go anywhere. Don't let the size fool you on the capabilities of this piece of equipment. After you go through all the set-up and find the final resting place of the subwoofer "prepare to be shaken not stirred."
The SVS PC-Ultra is hand made in their factory and you will notice that it very well constructed. SVS didn't cut corners on components or materials. They integrated the best possible materials available to make the PC-Ultra subwoofers affordable. I was impressed by the professional grade fabric that was used to dress the outside of the sub and the craftsmanship of these limited production models. The bass plate allows the downward firing Ultra-13″ monster woofer to resonate seamlessly throughout the room no matter what surface you have it on. A new 750 Watt RMS Built-In BASH Amplifier that has on-board Parametric Equalizer (PEQ), room compensation, and new connection options are available for expert users to fine tune in-room frequency response.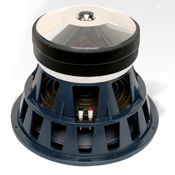 With all the adjustments available in the SVS PC-Ultra you will entertain yourself by tweaking the sub to give you your best listening experience. I found myself making more and more adjustments to get the perfect balance for my room. I already had a spot for exceptional positioning for a subwoofer so it was a no brainer to put the SVS subwoofer in the same place. With the sub being cylindrical I wondered if it would sound as good in the same spot, but after many moves around the room my spot to the right of the screen a foot and a half away from both walls proved again be the best location.
Now that I put my set-up DVD's away I was ready to kick the tires and take this baby out for a ride. I started by putting in DTS Demo DVD #10. The Eagles, "Life in the Fast Lane" has a thunderous bass note when you first start the song. The SVS did not disappoint me with the beat of the drum pounding as if I was a foot in front of the drum itself. After grabbing my jaw off the floor I pressed on to the next demo song only to realize my jaw would stay on the floor for the rest of the evening. With Diana Krall playing "Temptation," I was just astounded at the notes I was hearing. The Eagles on HD DVD will not disappoint you either. I received compliments from my neighbors saying they enjoyed the concert, especially since they didn't have to buy tickets.
I couldn't wait to put in a movie to see how well the PC-Ultra would perform. One of my favorite bass scenes is from Master and Commander. The opening barrage of cannon fire between the two ships — you will swear you could feel the shockwave hit your face from the sheer air pressure of this sub showing you the power that should come from those cannons. It was awe inspiring. I replayed the clip several times sitting there in disbelief that SVS PC-Ultra 13″ had out performed my existing subwoofer which had cost almost twice as much.
Demo after demo I couldn't believe the thunderous accuracy I was hearing from this subwoofer. Watching the "Lift Off" scene from Apollo 13 I almost reached for my harness to strap myself into the chair for fear I might go with them. While they were being depth charged in Das Boot I was definitely happy I am not a submariner. I felt like I was getting hit by a defibrillator every time a charge blew up. If you have the DTS DVD for Blue Man Group, "PVC" will knock your socks off if they are still on. Just when you thought it was safe to have a cup of water on the table, put in the Jurassic Park DVD to watch the water ripple as the T-Rex approaches. "Watch out Butt-kicker there is a new SVS PC-Ultra in town."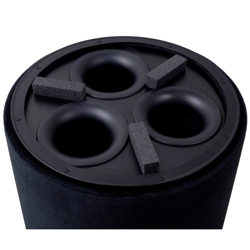 With levels of bass that I had never been able to experience before, the new PC-Ultra is outstanding. With the capability of porting the SVS "Tri-Power" High Flow Ports you can take down the "tune" of the sub to below 10Hz. You will need to make adjustments to the Subsonic Filter Knob but one of the great things about the new PC-Ultra is the amount of precision tuning you are capable of. I found that I had to move the gains down just a little when listening to music. The sub was just too overpowering. But it went right back up after a movie started. I think most people have this problem sometimes. There are receivers that allow you to correct it a little easier than adjusting the knob on the back of the Sub but I don't see it as a problem.
SVS is a small company that makes fantastically loud and accurate subwoofers. You will only find them on the internet which is a plus for you because if you had to buy the PC-Ultra 13 from a local retailer it would cost you twice as much. With that being said, I was a little upset when I found out I could have bought two for the price that I paid for my existing subwoofer. Hindsight is always twenty-twenty. What I have decided to do is to add the SVS PC-Ultra 13 to my system, and I cannot believe how well it compliments my existing system. Whether you are looking for your first subwoofer or an upgrade to your existing system, you cannot go wrong with the new SVS PC-Ultra.
SVS PC-Ultra – MSRP: $1,399 (availabe online from SVS)