When it comes to building uniquely designed speakers and electronics, Bang & Olufsen has become on of the most respected names in designer electronics. The BeoLab 4's are a high-end desktop speakers and the baby of the Bang & Olufsen line. The speakers have a very nice, fabric covered pyramid look that can be ordered in a variety of colors including black, silver, red, or blue.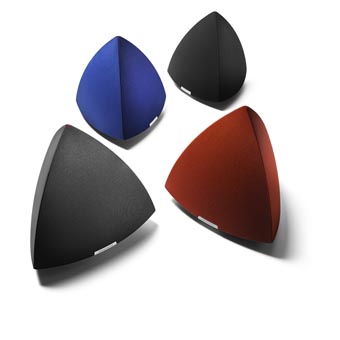 The BeoLab 4's can connect to any computer's headphone minijack. Each speaker needs to be plugged into an electrical outlet and is self-powered with a 35-watt ICE digital switching amplifier. The power is more than adequate for nearfield listening at a PC and is much more powerful than your average PC speaker.
I connected the BeoLab 4's to my MacBook and did all testing using various audio formats from 128KB AAC to uncompressed AIF. Each speaker was placed just beside my 22-inch wide external monitor.
The underside of each speaker contains just two switches and cabling jacks. One switch is the room placement setting labeled 1, 2 or 3, which instantly changes the dynamics of the speaker depending on where it's placed. Each setting has a unique sonic character that can best be characterized as 1 – very little bass, 2 – medium bass, 3 – more bass. I found the "2" setting to sound best in my room. The other switch sets the line-in option.
All cables connect on the underside of each speaker, but it should be noted there is no external volume control or on/off switch. When the speakers are plugged in correctly a green light appears at the tip of each pyramid. With the two power cables and a y-cable connected it wasn't easy to hide the cabling. However, an ideal desk for these speakers should have two pre-cut wire-holes to completely eliminate any wires from your desk. In fact, in-store demo's at B&O's stores will show it this way.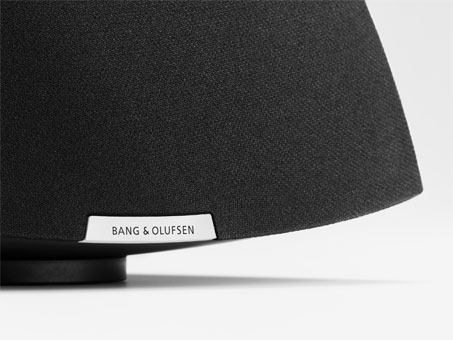 It should be noted, there are two versions of this speaker. A $999 version adds the "PC" moniker and eliminates the BeoLink connection. The PC version is meant to be used exclusively as desktop computer speakers, whereas the regular version has the BeoLink connection to operate with other B&O components. Otherwise the speakers and internals are the same.
| | |
| --- | --- |
| Model | Price (USD) |
| BeoLab 4 PC | $999 |
| BeoLab 4 | $1,399 |
Listening to music at my desk was a pleasant experience. I instantly noticed that they don't have the mushy dynamics and heavy bass of many of today's PC speakers. The BeoLab 4's revealed lots of musical details in the mids and highs. Vocals were very clear and their exceptional imaging created a virtual center channel as if they were coming out of the screen. Alternatively, it was instantly apparent they don't produce much bass. Even after drastically adjusting iTunes' EQ to produce more bass, they just wouldn't generate much sound in the lower regions. Further testing showed there was significant bass roll-off after 120hz. So bass lovers be wary of these expensive gems, unless you plan on adding a dedicated powered subwoofer.
Despite their limited bass response, I still found the BeoLab 4's easy to listen for extended periods. I was pleasantly surprised how well they handled 256kb MP3 tracks from AmazonMP3 as well as 128kb AAC tracks purchased from the iTunes Store. Regardless of what I played, it was often difficult to distinguish full-bandwidth songs from their compressed counterparts.
The speakers sounded best when seated directly in front of them at my desk. However, sound quality will dramatically fade the further you get away or move off center. So I wouldn't recommend them as room filling dedicated main speakers. Although, B&O says you can use them as rear speakers in a home theater, I'd be skeptical even though I did not test them as such.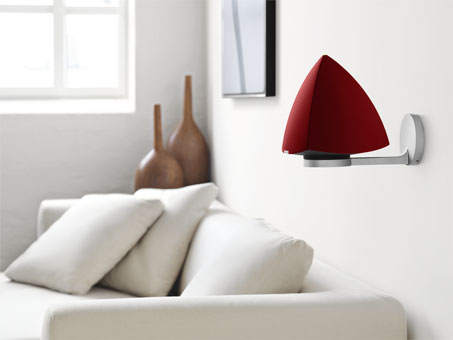 All in all this a nice entry into the high-end world of Bang & Olufsen speakers, Even though the BeoLab 4's are not perfect they are infinitely better sounding for their size than any desktop PC speaker I've heard before. Given their small footprint, unique shape and color options, I'd certainly consider keeping these on my desk for their aesthetics just as much as their sound quality.
Pros
Cons
• Very nice sound
• Detailed mids and highs
• Excellent imaging
• Wiring can be messy
• Limited bass response
• Pricey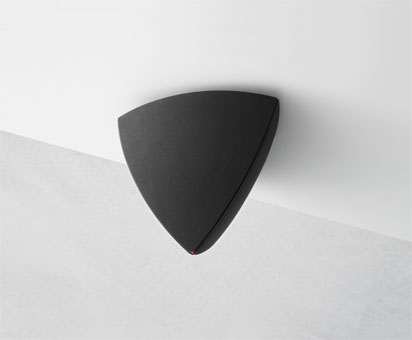 Brian Mitchell
Founder & CEO
eCoustics.com
Editorial Disclosure:
The views and opinions expressed are solely that of the author. Every effort was made to insure fair, accurate, honest, and reliable reporting. The speakers were provided on loan from Bang & Olufsen.
At the time of publication the manufacturer was not a current advertiser, had never purchased advertising, and has no known intent to start advertising on eCoustics.com. The author affirms he and all immediate family members are neither shareholders, partners, investors, subsidiary, consultant, contractor, agency, or affiliate of the manufacturer.