Panasonic announced their top-of-the-line full-High Definition (HD) HC-X900M camcorder, which can record 1920 x 1080, 60 progressive, and builds on the success of last year's HDC-HS900 by adding the new 3MOS System Pro to help achieve dramatic increases in performance thanks to a re-engineering of all the core imaging components: the lens, sensor and engine. Panasonic's 3MOS System Pro is a next-generation imaging system that powers the HC-X900M to produce bright, outstanding video even under dim lighting, while also minimizing noise. Plus, with professional-like features such as a manual ring, a 5.1-channel surround sound, an advanced Optical Image Stabilization (O.I.S) system called Hybrid O.I.S. +, the HC-X900M is a feature-rich camcorder with endless capabilities.
The HC-X900M can also shoot full-HD 3D (in the AVCHD 3D format) with the new optional conversion 3D lens, the VW-CLT2, which is smaller than last year's model (VW-CLT1) and has an increased brightness from F3.2 to F2.0. In addition, the new VW-CLT2 has 1.5x digital zooming.
Panasonic has shifted the green MOS sensor of the red, green and blue MOS sensors by half a pixel, thus helping to achieve more life-like colors, detail and gradation. Thanks to the advanced 3MOS sensor's unique pixel shift technology that runs at high speed and with superb accuracy, the HC-X900M further reduces noise by 40% when compared to last year's HDC-HS900/TM900. The HC-X900M's new Crystal Engine Pro II can achieve high-speed processing that is approximately equivalent to four times the pixel count of full-HD pixels, thus producing superb full-HD image quality, even in the most detailed images.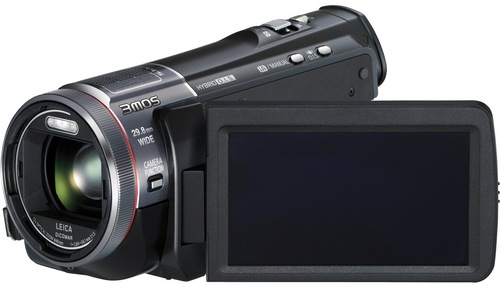 The HC-X900M features a bright F1.5, 12x optical zoom and 29.8mm wide-angle LEICA DICOMAR lens, meaning it allows for a wider-framed shot, which is convenient when shooting wide landscapes and large groups of people. The lens also features a new Nano Surface Coating Technology, which dramatically reduces ghosting and flaring. With an Octagon Iris Diaphragm, the user can apply a defocusing effect, so it is possible to shoot at a close distance from the subject while fitting both the subject and the surrounding area into the frame. This is beneficial so the voice of the subject is clearly recorded, but a full and wide frame is captured.
The HC-X900M features an improved O.I.S. system called, HYBRID O.I.S. +, which uses five-axis correction to help thoroughly suppress blurring all the way from wide-angle shots to powerful zoom shots — allowing for steady images over the entire zoom range. It even achieves superb effects when shooting while walking or otherwise moving, thanks to a function known as Active Mode. This lets the user capture crisp, clear images, without blurring, in nearly every shooting situation. In addition to the HYBRID O.I.S. + system, the HC-X900M provides even more powerful stabilization correction with O.I.S. Lock. By pressing the O.I.S. Lock button on the LCD monitor, the blur detection sensitivity is maximized and camera movements are detected and corrected without image degradation. O.I.S. Lock is ideal for applications like bird watching, which call for zooming at a fixed angle.
The Panasonic HC-HX900M features a manual ring for easy and convenient fingertip-control of commonly-used settings, like focus, zoom, exposure, shutter speed and white balance. Using the ring is now much more intuitive, comfortable, and user-friendly for settings that are often adjusted as opposed to accessing through the menu screen every time one of those features need to be changed. Plus, with manual operation, the HC-HX900M gives the user freedom to craft creative and expressive videos with ease. For those beginner users looking for a more intuitive setting, the HC-X900M also includes the iA function which automatically selects the most suitable shooting mode. Panasonic's iA consists of six functions: Face Recognition, the new HYBRID O.I.S. +, AF/AE Tracking, Intelligent Scene Selector, Face Detection and Intelligent Contrast Control.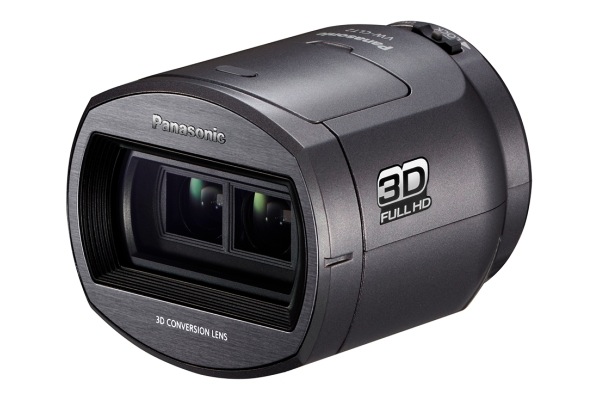 When the HC-X900M has the optional VW-CLT2 3D Conversion Lens (check price) attached, it can record full HD 3D images with the MVC (Multiview Video Coding) recording system of the AVCHD 3D format. During 3D recording, the right-eye and left-eye images are both recorded and played in Full-HD quality, using the Frame Sequential Method to produce FULL HD 3D images, which results in a lifelike ambience. The HC-X900M is equipped with a 1,150,000-dot 8.8-cm/3.5-inch LCD that allows 3D viewing without the need for special eyewear, so 3D images can be viewed on the spot. Naturally, the display can also be switched between 2D and 3D. And intuitive touch operation enables extremely easy control on the LCD. The Touch Zoom function allows the user to simply touch the LCD to activate slow zooming. The LCD also supports Touch Shutter, which automatically focuses and takes a still photo when the user touches the subject on the screen.
"Panasonic has really improved the core components of the HC-X900M, from its lens to its processor to its engine to ensure that it can power full 1080/60p at a 28-Mbps bit rate, thus resulting in absolutely stunning video, but also capturing rich deep sound," said Chris Rice, Senior Product Manager, Imaging, Panasonic Consumer Marketing Company of North America.
Other features of the Panasonic HC-X900M include:
32GB of built-in memory, plus an SD Memory Card slot that supports SD/SDHC/SDXC Memory Cards.
The Zoom Mic function links the microphone's capability to the camera's zoom action and helps to reduce surrounding noise. The HC-X900M with a 5.1-channel surround sound, noise is reduced by -20 dB while zooming.
The Wind Noise Canceller automatically detects and suppresses only the wind noise to ensure natural sounds with lifelike ambience, thus recording human voices clearly even on a windy beach or elevated location.
Pre-Rec function, when turned on, allows the camcorder to continuously record three seconds of video to an internal buffer memory, thus helping to capture sudden shooting opportunities. Provided that the camcorder is aimed at the subject in advance, the HC-X900M can actually record three seconds prior to pushing the record button.
Eco mode automatically turns off the power when the camcorder is not operated for five minutes, reducing wasteful energy use and saving battery power.
Price and Availability
The Panasonic HC-X900M will be available spring 2012 for $1,199.