New Full-HD Panasonic Camcorders feature 35mm Wide-Angle Leica Lens, Manual Controls with a 3MOS Sensor that Enables Enhanced Technologies for Superb Image Quality
Panasonic today introduced three new Full-High Definition (HD) 3MOS camcorders to its 2011 line, the HDC-TM900, HDC-HS900 and HDC-SD800. The new full-HD camcorders feature 1920 x 1080 resolution with 1080/60p recording to create crisp, detailed videos, and can also shoot 3D videos when used with Panasonic's optional 3D Conversion Lens (VW-CLT1). Incorporating Panasonic's 3MOS system — an advanced technology used in professional-level equipment– the new camcorders record bright, low-noise videos, even in low lighting. Other top-of-the-line features include a manual ring (TM900/HS900 only) for increased creativity, a 20x zoom and an intuitive 3.5″ touch-screen LCD on the TM900 and HS900.
With the 3D conversion lens, users can take video recording to the next level and record 3D images with Panasonic's new line of 3MOS camcorders. Once recorded, consumers can play back the 3D images or video on a VIERA 3DTV, a compatible 3D TV, or through an AVCHD-compatible player/recorder, such as Panasonic's Blu-ray Disc player.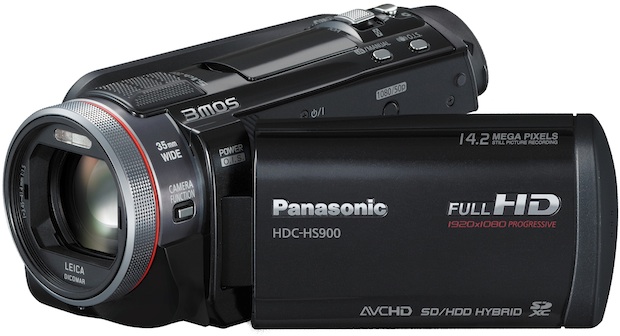 The HDC-TM900 and HDC-HS900 feature 3.5″ LCDs, while the HDC-SD800 features a 3.0″ LCD. Not only do the models include wide screens, they are now easier to use with advanced touch operation that allows for extremely smooth shooting and playback, with new touch operation functions including:
Touch Zoom — Swiftly zoom in or out by finger movement.
Touch Shutter — Automatically focus and take a photo by touching the subject on the screen.
All three models can record to SDXC/SDHC/SD Memory Cards, while the HDC-TM900 also has 32GB of internal memory and the HDC-HS900 has a 220GB hard disk drive for additional memory storage.}At the heart of Panasonic's advanced processing system is the high-sensitivity 3MOS sensor with 7.59 million effective motion image pixels (2.53 megapixels x 3). The 3MOS sensor separates light received through the lens into the three primary colors — red, green and blue — processing each independently for professional-like color quality, detail and gradation.
The Panasonic HDC-TM900, HDC-HS900 and HDC-SD800 camcorders also feature the large diameter (46mm) F1.5 Leica Dicomar Lens which produces brighter images and helps suppress ghosts and flare, while also minimizing distortion and degradation of contrast and resolution. In addition, its 35mm wide-angle capability makes it ideal for many different shooting situations, such as self-portraits and group photos indoors, and landscape shots outdoors.
The new models also feature the Crystal Engine PRO, which instantly processes the large amount of data that goes into full-HD quality for extremely clear, crisp motion images. The improved Crystal Engine PRO increases sensitivity and reduces noise by 45 percent compared to Panasonic's conventional models, resulting in brighter images with minimal noise when shooting under low-light conditions. Intelligent Resolution technology ensures sharp, beautifully colored motion images, while Intelligent Zoom enables high-powered 20x zooming, correcting the image degradation that occurs in ordinary digital zooming.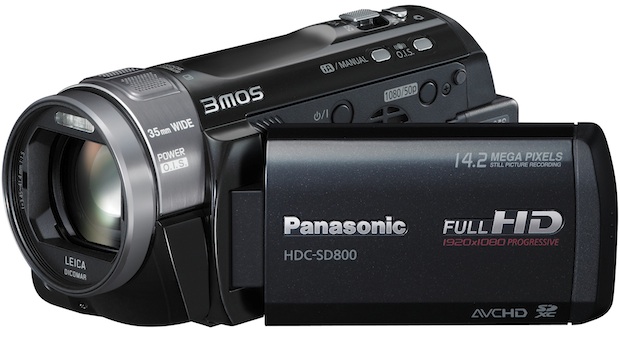 Other features of the HDC-TM900, HDC-HS900 and HDC-SD800 include:
HYBRID OIS (Optical Image Stabilizer) — Helps correct blurring due to hand and arm shake by detecting the vertical or horizontal wrist movements, but also the subtle blurring that occurs when the subject is moving.
iA (Intelligent Auto) with Face Recognition — Automatically selects the most suitable shooting mode at the press of a button, including Face Recognition, which finds the faces of registered people (up to six faces can be registered) and optimizes the focus and exposure and tracks the subject as it moves anywhere within the LCD frame.
Eco-Mode –Automatically turns off the power when the camcorder is not operated for five minutes, reducing wasteful energy use and saving battery power.
5.1-Channel Surround Sound System (HDC-TM900/HDC-HS900) — Uses five microphones so when sounds recorded from front, right, left and back are played on a 5.1-channel home theater system, viewers are surrounded by crisp, detailed sound.
Price and Availability
Pricing and availability for the Panasonic HDC-TM900, HDC-HS900 and HDC-SD800 camcorders will be available March 2011. All models will be available in black at the the following prices: