Panasonic today announced four new sleek, compact stereo systems, two of which play Internet radio and boast a remarkable Bluetooth function and Bluetooth Re-Master technology to deliver superb sound quality from an iPod touch or iPhone.
Panasonic's new models SC-HC55, SC-HC05, SC-HC35 and SC-HC25 are equipped with advanced proprietary audio reproduction technologies to produce a level of sound performance to meet the needs of discerning music lovers. Digital connection of an iPod/iPhone allows the compact stereo systems to process music signals in their original form, thus delivering sound that is faithful to the original for enhanced enjoyment of downloaded music.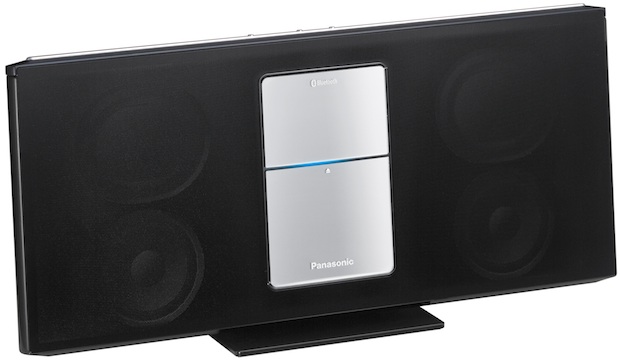 The top two models, SC-HC55 and SC-HC05, boast wireless music streaming and Internet radio control. Music lovers and talk radio enthusiasts can enjoy the hundreds of stations offered by Internet Radio and use the system's convenient features to search for stations and program their favorites by simply installing the vTuner application onto an iPhone or iPod touch.
The SC-HC55 and SC-HC05 are equipped with Bluetooth functionality, enabling the further expansion of listening options by the ability to receive audio transmission and play wirelessly from an iPod touch/iPhone/iPad or compatible mobile phone in one's hand, without docking. The SC-HC55 and SC-HC05 are also equipped with Bluetooth Re-Master circuitry, which compensates for audio signals that are lost during Bluetooth wireless transmission, thus further enhancing the quality of digital music.
The award-winning SC-HC55, recipient of this year's Innovations Award for Design & Engineering, boasts a Hands Free function, which allows a conversation on the iPhone to be conducted using the system's speakers and built-in microphone, while it is docked.
Designed to meet the needs of iPod users who want to enjoy their favorite songs with high quality sound at home, the SC-HC55 and SC-HC05 employ advanced proprietary Pure Direct Sound System digital signal processing to reduce distortion and deliver an exceptionally pure, clear sound that rivals the quality of larger hi-fi systems and brings out the best in any musical genre. The distortion that is commonly generated by the scattered reflection of sounds from the body surface is dramatically reduced by digital signal processing (DSP) correction to reproduce pure and clear sound.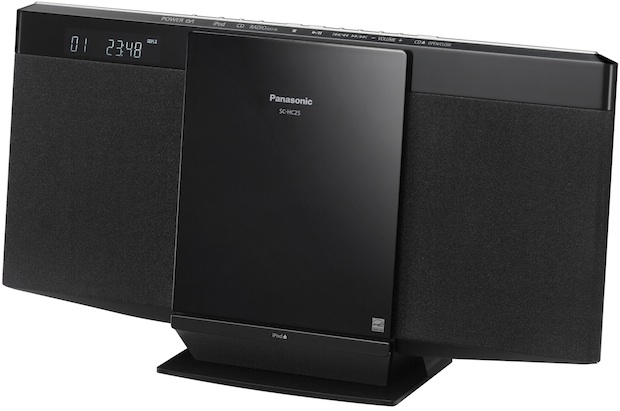 Thanks to their sleek, ultra slim design, the new compact stereos can be set up in places where conventional stereo systems will not fit. The SC-HC55 and SC-HC35 can also be placed on the wall with an included wall mount bracket. The SC-HC55 sports a motorized, Touch-Free Sensor door which is equipped with a motion sensor, enabling it to open and close by simply passing a hand over it.
With the exception of the SC-HC05, all of the new compact stereo systems are equipped with a CD player and AM/FM radio. The top models are designed with a rigid bamboo fiber material in the speaker cones to bring faithful sound vibration to the speaker drive. A dual passive radiator system employs passive radiators inside the main unit, positioned on both the left and right boxes to cancel out unwanted cabinet vibration and deliver dynamic bass sounds with minimal distortion.
Panasonic's new HC series will be available in April 2011.
Panasonic SC-HC05 – check price
Panasonic SC-HC25 – check price
Panasonic SC-HC35 – check price
Panasonic SC-HC55 – check price