Nikon today announced the 10-megapixel Nikon V1 Interchangeable Lens Digital Camera with electronic viewfinder (EVF), part of the new Nikon 1 series. The V1 is designed for serious photographers looking for versatility in a small form factor. It provides just about all of the features of the Nikon J1, plus these enhancements:
1.4 million dot high resolution EVF that automatically activates when the user raises the camera to their eye.
Magnesium alloy body conceals a high performance mechanical shutter that affords tactile feedback and expanded shooting options.
Multi-Accessory Port for attaching options such as the new SB-N5 compact speedlight, or the GP-N100 GPS module.
Infrared receivers for remote control operation on the front and back of the cameras enable wireless control over the shutter (optional ML-L3 wireless remote control supported). Front only on J1.
Stereo microphone input for professional quality audio.
Vibrating dust reduction system vs. optical system in the J1
Weighs 10.4 oz. (294g) and is 20% heavier and slightly larger than the J1.
350 shots per battery charge vs. 230 shots for the J1
3-inch LCD Monitor offers 921,000 Dots of resolution vs. 460,000 for the J1
No built-in flash (the J1 has one)
The new Nikon 1 system is a completely original concept, engineered specifically to strike the ultimate balance of performance, intuitive simplicity and portability to chronicle life like never before. This breakthrough platform lays the foundation for future technologies, and the Nikon 1 system has been created for the consumer who wants to capture, share and connect to life. The fully electronic lens system enables the camera to keep pace with an active lifestyle and delivers amazing images and Full HD 1080p movies to connect with friends and family. The versatility of interchangeable lenses in a convenient form factor will allow a consumer to take the camera with them wherever life leads.
The Nikon 1 mount is the new lens mount system developed for compatibility with Nikon's new imaging format. The new mount not only supports the dedicated 1 NIKKOR VR 10-30mm f/3.5-5.6, 1 NIKKOR VR 30-110mm f/3.8-5.6, 1 NIKKOR 10mm f/2.8 and 1 NIKKOR VR 10-100mm f/4.5-5.6 PD-ZOOM Nikon 1-mount interchangeable lenses, but also F-mount NIKKOR lenses, manufactured by Nikon for more than half a century, when the new FT1 mount adapter is used. This enables users to enjoy tremendous variety in their imaging expression with the ability to choose the lens best suited to the scene, subject, or their own creative intent from a broad lineup of standard and special-purpose lenses.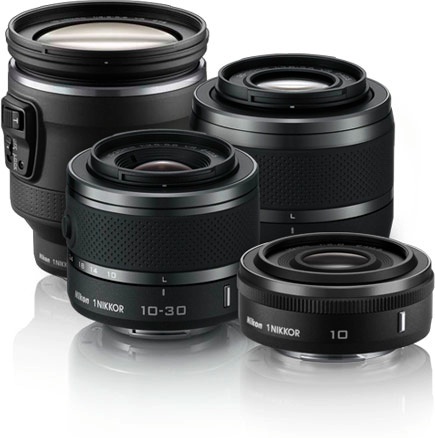 Price and Availability
The Nikon V1 with 10-30mm lens kit will be available October 20, 2011 in the U.S. for $899.95 in black or white.
See more about: New Digital Cameras, Interchangeable Lens Digital Cameras, Nikon Reviews