Nikon today announced the Nikon J1, one of two models in the new Nikon 1 series of interchangeable lens digital cameras. This Nikon 1 system was built from the ground up to represent a new category of camera that challenges conventional thinking, emphasizing a pocketable form factor with unbelievable speed, combined with the high image quality. An amazingly fast new hybrid Autofocus (AF) with Smart Photo Selector will automatically capture the best possible image without a second thought. Furthermore, just a touch of the shutter button instantly captures a high quality image while simultaneously recording Full HD 1080p movies, and the exciting new Motion Snapshot mode captures fleeting moments like never before with a combination of moving and still images. Nikon also created the entirely new 1 NIKKOR lens system that seamlessly integrates powerful precision optics into a camera platform to capture more of the world around the user.
The heart of the new J1 camera is the new Nikon developed CX-format, 10.1 megapixel High-Speed AF CMOS sensor. The newly developed CMOS sensor has been engineered for amazing image quality in a variety of lighting conditions, with a native ISO range of 100-3200 (6400 Hi-1) for maximum versatility. Images captured with this new sensor exhibit striking colors, vivid hues and rich detail so lifelike, it's the next best thing to being there as memories unfold.
Nikon's exclusive new EXPEED 3 image processing engine drives the system and is the catalyst behind the camera's rapid response, fast AF and high-speed performance. In addition, the new dual core EXPEED 3 processor works to maximize battery efficiency while yielding images and movies with low noise and vibrant tones. The Nikon J1 is engineered for maximum ease of use, featuring a clean button layout and intuitive graphical interface. Distractions and menus are minimized; creating a clear path to the camera's advanced functions, further unleashing creative potential.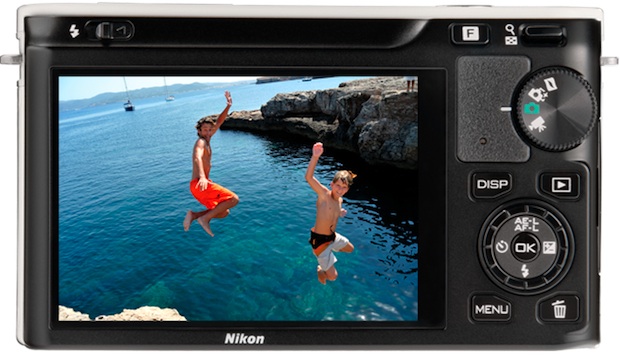 The new advanced hybrid AF system is the world's fastest autofocus, allowing consumers to capture more of their world than ever before. The Nikon J1 features new focal plane phase detection AF that reacts instantly to deliver incredibly fast, split-second response. Wherever action is happening in the frame, the 73-point AF system will get the shot. This newly developed hybrid system continuously evaluates the scene at hand for optimal results, and can switch between phase detection and contrast detect AF to best suit the scene. Whether shooting in low-light conditions like a late night block party, or a fast moving pick-up game, photographers can capture details with confidence.
Users can also shoot at a fast 10 frames per second (fps), with full adaptive AF for frame after frame of images with incredible sharpness and detail. Additionally, the scene can be captured at full resolution up to a staggering 60 fps (AF locked), which is the world's fastest continuous shooting speed.
By selecting the Motion Snapshot icon from the Mode Dial at the back of the camera, consumers can capture fleeting moments with staggering depth and emotion like never before. The result unites a frozen still image with a slow-motion movement set to a built-in audio soundtrack to create a portrayal of an occurrence with maximum impact. With Motion Snapshot, users are now able to relive memories in stunning detail, as real movement and depth are included in the image. Motion Snapshot provides a way to once again experience someone's hair flowing in the breeze or relaxing scenes like waves crashing or rustling leaves that evoke an emotional response.
Consumers are also able to create masterpieces of moving images from multiple files using the included Short Movie Creator software. This easy-to-use, intuitive software works in conjunction with Nikon's View NX2 to make managing photos and movies fun and easy. With these programs, users are empowered to organize, share and edit photos, Motion Snapshots and HD movies. Users are also able to connect and share Motion Snapshot files using Nikon's my Picturetown, an online resource at www.mypicturetown.com.
Control highlights include a Mode Dial, with the four main common functions readily available, in addition to a Command Dial with common camera settings. The new "F" (feature) button is a new design element to Nikon cameras, which automatically brings up relevant menus and options based on what mode the camera is set.
The Nikon 1 system is further complemented by fashionable, premium accessories tailored to perfectly fit a user's lifestyle. These accessories include a custom fit body case set available in a variety of colors, as well as fashionable, color coordinated leather neck and hand straps.
Nikon's new Smart Photo Selector mode uses the camera's pre-cache to start shooting and storing images. All of these images are analyzed within the camera, and the best photo is selected based on a number of factors including exposure, focus and advanced facial recognition. While the camera suggests the best image, five frames are recorded, providing the user a choice of their favorite photo. What's more, the J1 also includes favorite core Nikon technologies, such as Active D-lighting, Auto Scene Selector and Picture Controls.
The new CX-format CMOS sensor produces Full HD movies at 1080p (30 fps). Users can also shoot at a rapid 60 fps (1080i), or elevate the production with additional 30/60/400 and 1200 fps modes for super slow motion effects. The J1 is made to be flexible, and can capture both HD movies and high resolution images simultaneously. Simply press the shutter while recording to freeze the action with a high quality image file with sharp focus.
Additionally, the Nikon J1 applies noise reduction to movie files, giving the user amazingly sharp, crisp movies with deep black levels. This feature makes this the ideal camera for shooting movies when light is less than ideal, such as indoors or at night. A full HD movie can record a full 29 minutes, while the senses are further treated to sound sampled in full stereo for lifelike reproduction.
The new Nikon 1 system lenses include the color-matched 1 NIKKOR VR 10-30mm f/3.5-5.6 lens (27-81mm 35mm equivalent) for optimal focal range in a small lens. For those needing maximum versatility, a 1 NIKKOR VR 30-110mm f/3.8-5.6 lens (81-297mm equivalent) is available, or users can explore their creative side with a color matched 1 NIKKOR 10mm f/2.8 pancake lens (27mm equivalent). For the movie enthusiast, a new 1 NIKKOR VR 10-100mm f/4.5-5.6 (27-270mm equivalent) power zoom lens will be available. This new lens is Nikon's first powered zoom, and provides smooth and silent changes in focal length while recording movies. Additionally, the FT-1 F-mount adaptor for legacy NIKKOR lenses will be available in the future, so that photographers can utilize their collection of quality NIKKOR lenses.
Price and Availability
The Nikon J1 with 10-30mm lens kit will be available October 20, 2011 in the U.S. for $649.95 in white, pink, red, silver and black.
Nikon J1 Reviews
From Critics Around the Web