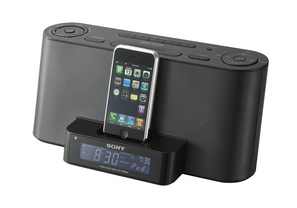 Sony Adds iPhone Support to Its Clock Radio Lineup
Designed for bedrooms, studio apartments or college dorm rooms, Sony is unveiling its latest clock radio with a dock for iPod and iPhone™.
Sony is one of the first companies to launch an iPhone compatible speaker clock radio. It features a wireless remote with full access to the iPod and iPhone devices' menus (the iPhone handset must be in iPod mode), as well as to alarm clock's radio tuning and volume functions. It also charges the device while docked.
An adjustable backstop mechanism ensures that most devices fit snugly and securely in the clock radio's cradle. It's also compatible with the smaller iPod players. Because of its supplied cable and line-in jack, other digital music players can be easily connected to the unit.
Robust Alarm Clock
The clock radio also has a full-function alarm clock. Users can choose to wake up or fall asleep to music, the radio or a buzzer.
When first powered on, the Automatic Time Set (ATS) feature will display the correct Eastern Standard Time which easily can be changed to other time zones. The unit also has automatic Daylight Savings Time adjustment, eliminating the need to reset the clock in the spring and the fall. Adjustable brightness control over the LCD display provides easy readability.
Pricing and Availability
The ICF-ClipMK2 clock radio comes in both black and white designs. It will be available in May for about $100 at Sony Style stores, online at http://www.sonystyle.com and at authorized dealers nationwide.