New Sony Photo Printers Enable Portability and Creativity Anytime, Anyplace
As the summer travel season approaches, Sony will make it easy for folks to print photos from just about anywhere, anytime by taking along one of its new lightweight photo printers announced today.
They Go Where You Go
The portable printers (models DPP-FP97 and DPP-FP67) can easily be transported in a carry-on bag to birthday parties or on family trips. Plus, they are the perfect addition to any scrapbooking party.
Sony DPP-FP67
A variety of creative prints that come with the DPP-FP97 model make customizing memories and creating on-the-spot, one-of-a-kind gifts a snap. This model comes with frame, scrapbooking and calendar templates so you can personalize your photos. Sony added a software keyboard to this model for quick type messages and personalized greeting cards.
Both models produce 4 x 6-inch photo prints. The DPP-FP97 model prints photos in about 45 seconds, and the FP67 model prints photos in about 63 seconds.
Photo Editing and Color-Correction On-The-Fly
The auto touch-up feature with the DPP-FP97 model can be engaged to correct common photo problems with the touch of a button. This feature engages technology that corrects white balance, focus, exposure and red eye — all from the 3.5-inch LCD screen right on the unit.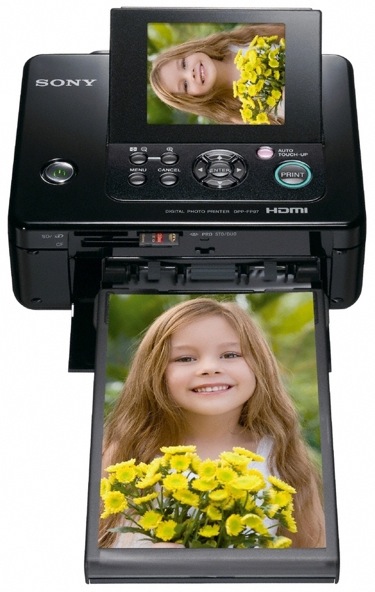 Sony DPP-FP97
Both new printers are compatible with several types of flash memory cards, including Memory Stick PRO™, Memory Stick PRO™ Duo, SD Memory Card, SDHC, MMC and xD-Picture Card. The DPP-FP97 model also supports Compact Flash cards.
Connect and Share
To enjoy a slideshow in HD, the Sony DPP-FP97 photo printer has an HDMI-out port (although the cable itself is not included), so it can be connected to a Sony BRAVIA HDTV or other compatible HD television set.
The printer can also be connected to any of Sony's S-Frame (Digital Photo Frame) via a USB connection. You can print pictures from the frame directly to the printer.
Pricing and Availability
In May, the DPP-FP97 digital photo printer will be available for about $200, and the DPP-FP67 model for about $120 direct at sonystyle.com, military base exchanges and authorized dealers nationwide. The DPP-FP67 model will also be available at Sony Style retail stores. Online presales will begin in April at www.sonystyle.com.