Nintendo today announced the Wii U, an innovative video game system that combines a 6.2-inch touchscreen/motion controller with a console gaming experience. Adding a second screen to the living room creates a multitude of new video game experiences while offering families a variety of options to customize their entertainment.
Previously, video games played on a home console have been confined to the TV and offered identical viewpoints to each player in a multiplayer environment. Furthermore, watching TV and playing console games have been completely separate experiences. The new controller removes these boundaries, creating a more dynamic and fluid gaming and entertainment experience. New gaming experiences are made possible by Wii U and the new controller such as:
In single-player games:

The new controller can display information on its screen that does not appear
on the TV.
The information and viewpoint can also change in the new controller based on the orientation of its gyroscope.

In multiplayer games:

The player using the new controller can have a different experience than those looking at the TV. This will offer a wide variety of competitive and cooperative opportunities.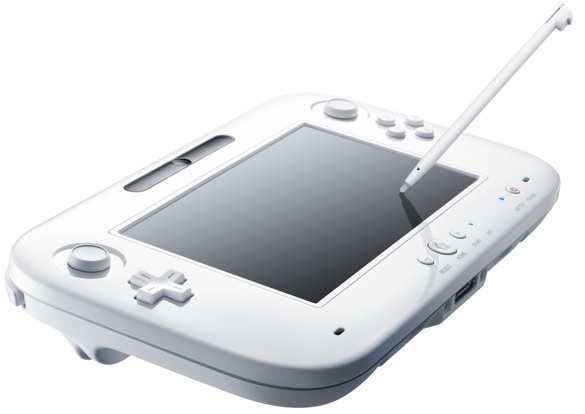 In addition to the 6.2-inch screen, the new controller also features an accelerometer and a gyroscope, a rumble feature, an inward-facing camera, a microphone and speakers. Adding these features to the Classic Controller button scheme — two analog Circle Pads, +Control Pad, A/B/X/Y buttons, L/R buttons and ZL/ZR buttons — will enable a breadth of game-play experiences while appealing to both casual and dedicated video game players.
Wii U combines motion-sensing game play with the ability to support full HD graphics. Each Wii U console will be partnered with a new controller and can also use up to four additional Wii RemoteTM or Wii Remote Plus controllers. The system is also backward compatible and can play all Wii games and use all Wii accessories. The Wii console has sold more than 86 million units globally and greatly expanded the overall audience for video games. Wii U aims to expand that audience even further. Developers worldwide are already working on new games and experiences for the console.

"Wii U redefines the structure of home entertainment by fundamentally changing how the TV, the game console and the Internet function and interact together," said Nintendo President Satoru Iwata. "The experience enabled by Wii U and the new controller takes players deeper into their games, while reaching out wider than ever before to be inviting to all kinds of gamers."
Availability
Coming in 2012. Pricing not announced.
Specifications
| | |
| --- | --- |
| Size | Approximately 1.8 inches tall, 6.8 inches wide and 10.5 inches long. |
| New Controller | The new controller incorporates a 6.2-inch, 16:9 touch screen and traditional button controls, including two analog Circle Pads. This combination removes the traditional barriers between games, players and the TV by creating a second window into the video game world. The rechargeable controller includes a Power button, Home button, +Control Pad, A/B/X/Y buttons, L/R buttons and ZL/ZR buttons. It includes a built-in accelerometer and gyroscope, rumble feature, camera, a microphone, stereo speakers, a sensor strip and a stylus. |
| Other Controls | Up to four Wii Remote (or Wii Remote Plus) controllers can be connected at once. The new console supports all Wii controllers and input devices, including the Nunchuk controller, Classic Controller, Classic Controller Pro and Wii Balance Board. |
| Media | A single self-loading media bay will play 12-centimeter proprietary high-density optical discs for the new console, as well as 12-centimeter Wii optical discs. |
| Video Output | Supports 1080p, 1080i, 720p, 480p and 480i. Compatible cables include HDMI, component, S-video and composite. |
| Audio Output | Uses AV Multi Out connector. Six-channel PCM linear output through HDMI. |
| Storage | The console will have internal flash memory, as well as the option to expand its memory using either an SD memory card or an external USB hard disk drive. |
| CPU | IBM Power-based multi-core microprocessor. |
| Other | Four USB 2.0 connector slots are included. The new console is backward compatible with Wii games and Wii accessories. |