Logitech introduced the Wireless Solar Keyboard K750 for Mac that is powered by light and can operate for up to three months in total darkness on a full charge. It powers itself with ambient light in the room so there's no need for direct sunlight. Plus, you can download the solar power app that gives you at-a-glance information about battery levels, and even alerts you when you need more light.
With the same design and feature set as the black Logitech Wireless Solar Keyboard K750 announced last year, this newest version is now available in four new colors exclusively for Macs. With its PVC-free construction and fully recyclable box, this keyboard is designed to help minimize its environmental footprint.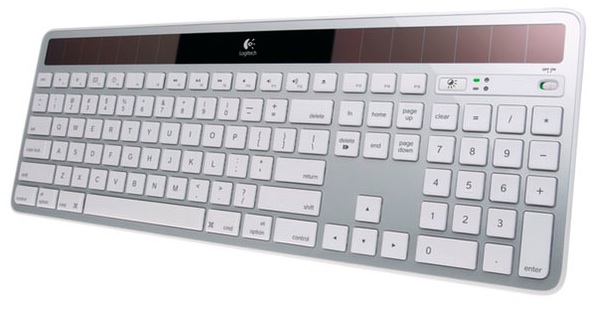 A full-size wireless keyboard, the Logitech Wireless Solar Keyboard K750 for Mac includes a number pad and features a layout designed for Mac users, so everything is where you expect it to be. Combining the best of traditional keyboards and laptops with a Logitech-only concave key-cap design, the keyboard lets you enjoy faster, quieter, feel-good typing — hour after hour. With sleek lines and a thin profile, this stylish, streamlined keyboard adds style to your workspace–whether you've got a laptop or desktop.
The Logitech Wireless Solar Keyboard K750 for Mac comes with advanced 2.4 GHz wireless connectivity to virtually eliminate delays or dropouts, and a plug-and-forget Unifying receiver that is so small it stays in your laptop, so your keyboard is always ready to use. .
Pricing and Availability
The Logitech Wireless Solar Keyboard K750 for Mac is expected to be available in the U.S. and Europe beginning in August 2011 for $59.99.