Denon Electronics announced three mid-range IN-Command Series of network-capable, home theater receivers featuring a streamlined new design, built-in AirPlay and 4K video capability. The new models, include the 7.2-channel AVR-3313CI, AVR-2313CI, and 7.1-channel AVR-2113CI (photo top), which replace last year's AVR-2112CI, AVR-2312CI, and AVR-3312CI receivers. The new line adds a robust new content services platform, streamlined new design and easy-to-access front-panel inputs, as well as 4K video capability. Notably, all three feature access to popular content sources including Sirius XM, vTuner Internet radio and Pandora. Purchasers of IN-Command receivers can also download a free upgrade for the new Denon Remote App, allowing them to control their receiver via iPhone, iPad or iPod touch.
The 'IN' in 'IN-Command' stands for Integrated Network, offering dramatically enhanced surround sound, multi-zone networking and AirPlay capabilities. The new receivers allow users to stream their iTunes music whether from Mac or PC, as well as music stored on their iPhone, iPad, or iPod touch. The new receivers also feature Direct Connectivity for iOS devices via a front panel USB input.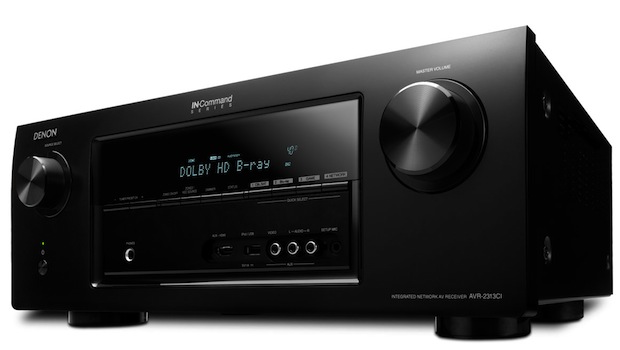 AVR-2313CI
In addition each new receiver has a streamlined front-panel design, larger character displays, richer graphics on their newly designd GUI interfaces, and a simpler AV receiver remote control. The new IN-Command receivers each offer a minimum signal path, anti-jitter circuit design, 24-bit/192-kHz DACs, as well as Audyssey Dynamic Volume, Audyssey Dynamic EQ and Audyssey MultEQ XT.
AVR-3313CI
The top-of-the-series Denon AVR-3313CI represents the pinnacle of technology and common-sense features in today's digital home entertainment universe. With its metal front panel and flip-down door, it is a stately addition to any system, and with 125 watts per channel, it delivers more than enough power for the largest of rooms and the most demanding of speakers. The AVR-3313CI can be the centerpiece of a three-zone system, including the main room plus two additional playback areas, with independent sources available for each zone. The unit's seven HDMI inputs allow for a one wire connection for both picture and sound from most newer audio/video sources, such as set-top boxes, gaming consoles, and Blu-ray players.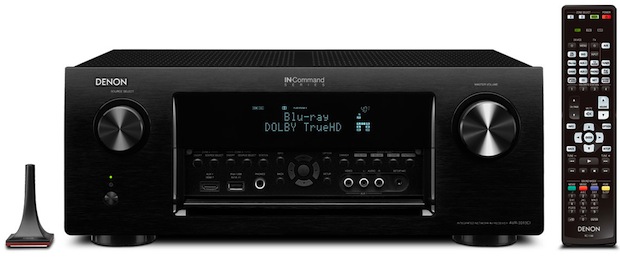 AVR-3313CI
The AVR-3313CI incorporates true multi-zone HDMI audio/video distribution with the inclusion of HDMI matrix switching functionality. Equipped with three HDMI outputs (2 x parallel, 1 x discrete), the AVR-3313CI allows for the connection of up to three different HDMI equipped displays; users can now send two different HDMI feeds to two displays at the same time directly from the receiver, eliminating the need for costly external switches and extra remote control complexity.
IN-COMMAND = Custom Integration-Friendly
Custom integrators will appreciate the fact that Audyssey MultEQ XT Auto Setup and Calibration are included in all three units, allowing for total ease and accuracy of set-up, along with the ability to use the advanced Audyssey Pro installer package (in Models AVR-2313CI and AVR-3313CI), which measures ideal sonic performance in up to 32 different positions, defining the ultimate sound quality for virtually any size or shaped room. The units also feature remote access via the Internet, RS-232 and IP Control for third-party controllers and are Control4 certified.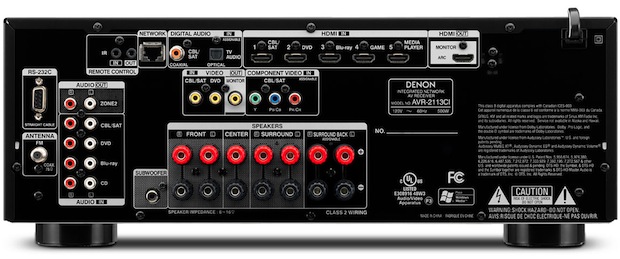 AVR-2113CI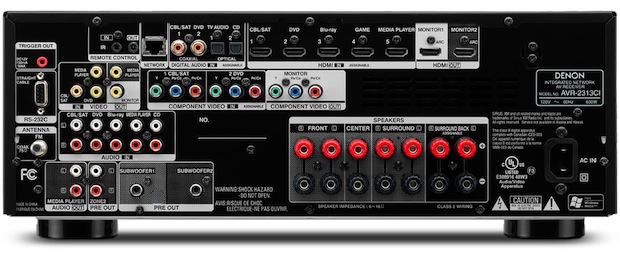 AVR-2313CI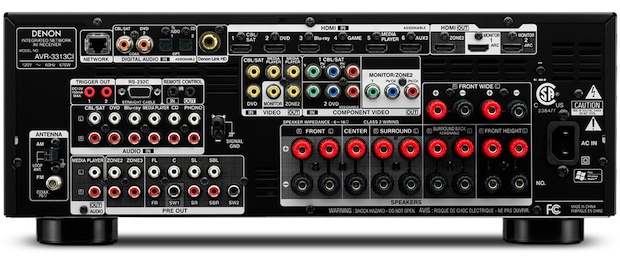 AVR-3313CI
For a side-by-side comparison, see Denon.com for specifications.
Price and Availability
Denon AVR-2113CI (7.1-channel @ 95-watts/channel) A/V Receiver → $649.99 (Available Now)
Denon AVR-2313CI (7.2-channel @ 105-watts/channel) A/V Receiver → $899.99 (June 2012)
Denon AVR-3313CI (7.2-channel @ 125-watts/channel) A/V Receiver → $1,199.99 (June 2012)
See more A/V receivers.