High-Performance, Apple-Friendly Networked Receivers Offer Dolby Pro Logic IIz, AirPlay Music Streaming and More
Denon just announced the IN-Command Series home theater receivers that put consumers "in command and in control" of all their home entertainment in new and exciting ways. The company's new IN-Command Series line, expected to be available in May 2011, includes models AVR-2112CI ($649.99), AVR-2312CI ($849.99) and AVR-3312CI ($1,049.99). They all feature a host of easy-to-use command and control and content access capabilities and ahead-of-the-curve lifestyle features geared toward today's "networked home," as well as a sleek new Denon cosmetic, with a newly designed front panel and thinner profile.
Advanced Networking, Plus Host of Apple iPod/iPhone and CI-Friendly Capabilities
Denon's new IN-Command Series receivers were designed from the ground up to meet the needs of today's "content-hungry" consumer, featuring advanced multi-zone networking capabilities, as well as maximum compatibility with Apple wireless devices and other home entertainment source components. For instance, all three models include the new AirPlay music streaming feature*, which lets users literally "give their home a soundtrack" by unleashing their iTunes music libraries whether from Mac or PC , as well as music stored on their Apple mobile devices, to select Denon components through their Wi-Fi enabled networks from iPhone, iPad or iPod Touch. Notably, the receivers also feature iPod/iPhone Direct Connectivity via USB (also works with iPad) for quick and simple integration of Apple devices into the larger home network. Adding to their advanced networking capabilities, Denon's unique "Party Mode Plus" allows simultaneous music playback in up to five rooms when connected to compatible Denon party mode-compliant products.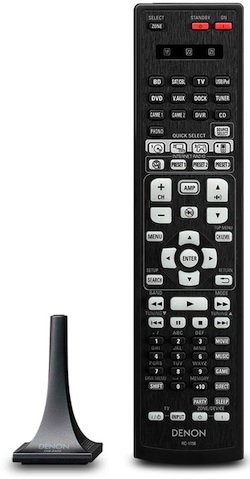 The Height of Audio Excellence
Audio excellence is a priority in all Denon A/V receivers. To this end, all new IN-Command Series models include Dolby Pro Logic IIz decoding featuring Front, Height Effects Channels, providing a dramatically enhanced audio experience. Additionally, Audyssey DSX (available in AVR-3312CI) with front height or expanded width channels further enhances the surround sound experience, adding a vertical component to the horizontal soundfield of a 5.1-channel system. The enhanced spatial audio effect provides added presence and depth while maintaining the integrity of the source mix and ensuring audio is always appropriate to the source material. Additionally, all three models feature dual differential 24-bit/192-kHz DACs per audio channel, and Audyssey Dynamic Volume, Audyssey Dynamic EQ and Audyssey MultEQ XT.
Advanced Internet Interface Capabilities
To provide maximum compatibity and interface capabiltiies with the Internet, all three IN-Command Series receivers feature a Web browser function. Responding to the growing consumer demand for ways to incorporate more personal content and content from Internet sources into their home entertainment systems, all three allow users to stream both the free Pandora and Flickr services, as well as stream audio and photos directly from their PCs, choose from over 12,000 Internet radio stations and connect to the subscription-based Rhapsody and Napster music services.** Users can also stream and listen to music stored on a Windows PC and media server products or NAS devices supporting the DLNA standard. Further reflecting the importance Denon places on leading-edge Web access, all are officially "Compatible with Windows 7," ensuring full compatibility with the updated 'Play To' functionality of the new Microsoft operating system.
Features Geared Toward Custom Integrators
Custom integrators will appreciate the fact that Audyssey MultEQ XT Auto Setup and Calibration in all three units allows for total ease and accuracy of set-up, along with the ability to use the advanced Audyssey Pro installer package (in Models AVR-2312CI and AVR-3312CI), which measures ideal sonic performance in up to 32 different positions, defining the ultimate sound quality for virtually any size or shape room. The units also feature remote access via the Internet, RS-232 and IP Control for third-party controllers and are Control4 certified.
"The 'IN' in 'IN-Command' stands for Integrated Network, allowing consumers to be "in command" of all their content, components and entertainment environments so they can enjoy music, movies and games, with dramatically enhanced surround sound, plus interactive web access, multi-zone networking and more. From initial set-up to maximum enjoyment, these new receivers do it all in the simplest and most straightforward ways possible. Importantly, many of the features in these CI-friendly models represent leading-edge technologies and capabilities of models priced significantly higher. "
— Jeff Talmadge, Director, Product Development & Systems Integration, Denon Electronics
AVR-2112CI
AVR-2312CI
AVR-3312CI
MSRP
$649.99
$849.99
$1,049.99
Channels
7.1
7.2
7.2
Watts Per Channel
90
105
125
All Channels Rated
0.08 THD
0.08 THD
0.05 THD
Dynamic Discrete Surround Circuit
D.D.S.C – D
No
No
Yes
+12v Trigger Output – Assignable
No
1 x 150 mA
2 x 150 mA
Analog Audio Inputs, Incl. Tuner
8
8
8
Analog Record Outputs
–
1
1
Assignable Digital Inputs
2
4
4
Component Video Inputs x Bandwidth
*Assignable
1 x 60 MHz
2* x 60 MHz
2* x 60 MHz
Composite Video Inputs
3 Incl. Front
4 Incl. Front
5 Incl. Front
Component Video Outputs
–
1
1
Digital Inputs: Coaxial
1
2
2
Digital Inputs: Optical
1
2
2
Digital to Analog REC Out
No
No
Yes
Audyssey DSX
No
No
Yes
Audyssey Pro installer package
No
Yes
Yes
Discrete Multi-Zone
Composite Video Output
No
No
Yes
Discrete Remote Source
Selection for Zone 3
No
No
Yes
Pre-Amp Outputs
Sub
Sub x 2
7.2
RS-232 Port
Third Party Remote Controllers
Yes
Yes
Yes
S-Video Down Conversion
2nd Zone
No
No
Yes
Video Conversion
Analog to HDMI Scaling
480p 720p 1080i 1080p
No
Yes
Yes
Video Conversion
Composite to S-Video to Component
No
No
Yes
AL24 Processing – All Channels
No
No
Yes (FL/FR Only)
Analog-to-Digital Conversion
Bit Depth/Sampling Rate
24-bit/96-kHz
24-bit/192-kHz AK5358B
24-bit/192-kHz AK5358B
Dolby Digital, dts and DSP Modes
Analog Devices, HammerHead SHARC
Yes
Yes
Yes
Detachable Power Cord
No
Yes
Yes