Provide Wide Viewing and Excellent Color
Dell just released the UltraSharp U2211H and U2311H flat panel monitors with in-plane switching technology (IPS) to deliver consistent colors across wide viewing angles for growing businesses, knowledge workers and photography buffs who need superb color reproduction in their work or leisure activities. These new displays are available across Asia Pacific & Japan and in the US now at prices starting from $279 (US) for the U2211H and $299 (US) for the U2311H. They will be available in Europe from May 19th.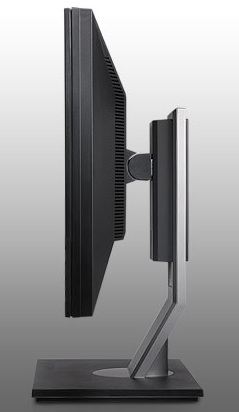 The Dell UltraSharp U2211H, with its 21.5-inch display and the U2311H with a 23-inch display come in full HD and utilize IPS technology that provides brilliant screen resolution, high dynamic contrast ratio and amazing, vivid and consistent color consistency with minimal color deviation from virtually any angle. For larger organizations needing an extra layer of control, multiple displays can be remotely managed by IT administrators, through Dell Client Manager software when used with select Dell computers on a Dell network. These new displays are also fitted with a number of energy smart features, to help lower energy bills and comply with some of the latest energy-efficiency standards, including ENERGY STAR 5.0 and TCO 5.0. Additionally, the monitor's EPEAT Silver rating ensures alignment with some of the highest environmental standards for public and private sector use.
"These new Dell displays are ideal for knowledge workers such as financial analysts, programmers and photography enthusiasts," said Steve Gluskoter, General Manager of Dell Displays and Peripherals. "They will all appreciate the crisp and high quality images, the connectivity and features designed for comfort and the response time of 8ms which ensures that fast-moving multimedia content is displayed accurately".
The Dell U2211H and U2311H include a number of comfort design features for prolonged usage, such as a height adjustable screen that can tilt and swivel to accommodate user preferences. Both displays can also easily pivot to the landscape or portrait orientations, allowing users to view long documents without scrolling excessively. Full HD resolution on this display also makes it easier for customers to multitask by positioning multiple applications or Web pages next to each other without losing content. It also reduces the need to scroll within large documents and toggle between application windows.

Other features include multiple connectivity options such as DisplayPort, DVI-D (with HDCP), 4X USB 2.0 and VGA connectors for compatibility with legacy devices. This wide range of connectivity allows the monitor to be hooked up to multiple computers and devices.
Technical specifications of the new Dell UltraSharp U2211H and U2311H include:
Dell UltraSharp U2211H 21.5″ W Monitor
Dell UltraSharp U2311H 23″ W Monitor
Screen Size:
21.5-inch (54.61 cm) diagonal viewable image size
23-inch (58.42 cm) diagonal viewable image size
Maximum Resolution:
1920 x 1080 at 60 Hz
1920 x 1080 at 60 Hz
Color Depth:
16.7 Million
16.7 Million
Viewing Angle
178 degrees (vertical)
178 degrees (horizontal)
178 degrees (vertical)
178 degrees (horizontal)
Panel Type:
IPS (In-Plane Switching)
IPS (In-Plane Switching)
Response Time:
8 ms (gray to gray)
8 ms (gray to gray)
Connectivity:
VGA, DisplayPort, DVI-D (with HDCP), 4X USB 2.0
VGA, DisplayPort, DVI-D (with HDCP), 4X USB 2.0
Stand:
Height Adjustable, Pivot, Tilt, Swivel
Height Adjustable, Pivot, Tilt, Swivel
Regulatory and Certification
EPEAT Silver, ENERGY STAR 5.0, TCO 5.0
EPEAT Silver, ENERGY STAR 5.0, TCO 5.0
Price:
$279
$299