VIZIO announced the 32-inch XVT323SV and the 37-inch XVT373SV Edge Lit Razor LED LCD HDTVs with local dimming that produce a 1,000,000:1 contrast ratio with full HD 1080p resolution and a 120 Hz refresh rate. The new XVT televisions feature a sleek and slimmer new profile at less than a 2-inch depth.
The new Edge Lit Razor LED LCD models bring the major improvement of local dimming for the first time to these screen sizes, improving contrast ratios to 1,000,000:1, an enormous increase over the 50,000:1 contrast ratio seen in the previous generation products. Another new addition to these screen sizes is VIZIO's complete VIA platform, with integral Dual Band 802.11n Wi-Fi and VIZIO's unique Bluetooth remote control with QWERTY keyboard.
VIZIO Internet Apps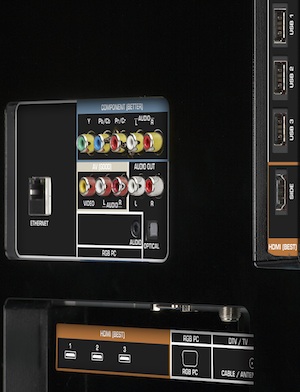 Each of these VIZIO XVT series HDTVs brings the best of the web to the home through VIZIO Internet Applications, the industry leader with over 75,000 movie and TV show options and 10 Million songs. Unlike competitive sets that require the purchase of external adaptors, VIZIO provides seamless state-of-the-art wireless Internet access through integral Dual Band 802.11n Wi-Fi. The user experience is vastly improved through the industry's only remote control with dual Bluetooth/Infrared functionality and a slide-out QWERTY keyboard.
Class-leading Sound Experience
High definition audio is an important element in each XVT Series set, enabled through the use of quality speakers and SRS TruSurround HD premium audio processing, which creates an immersive virtual surround sound from stereo and surround sources. In addition, SRS TruVolume eliminates sharp jumps in volume that may be heard when switching from channel to channel or coming in and out of commercial breaks.
All the Right Connections
Providing great flexibility for multiple sources including disc players, portable devices and gaming, the XVT373SV and XVT323SV each have 4 HDMI 1.3 inputs. All sets are available and shipping now.
VIZIO XVT Series
Model
Size/
Res.
Contrast Ratio
Smooth Motion
Smart Dimming
HDMI 1.3 Inputs
Dual Band 802.11n
VIZIO Internet Apps
Bluetooth Remote
SRS Audio
MSRP
XVT553SV TruLED
55″ FHD
10M:1
240 Hz SPS
120 Zones
5
Yes
Yes
Yes
Yes
$2,199
XVT473SV TruLED
47″ FHD
10M:1
240 Hz SPS
160 Zones
5
Yes
Yes
Yes
Yes
$1,799
XVT423SV TruLED
42″ FHD
10M:1
240 Hz SPS
120 Zones
5
Yes
Yes
Yes
Yes
$1,199
XVT373SV Razor LED
37″ FHD
1M: 1
120 Hz
Yes
4
Yes
Yes
Yes
Yes
$899
XVT323SV Razor LED
32″ FHD
1M: 1
120 Hz
Yes
4
Yes
Yes
Yes
Yes
$699