Features Full Array TruLED LCD technology for significant performance advantages over competitors' sets, with superior uniformity, better off-angle viewing and deeper blacks
VIZIO today announced a new lineup of XVT (Xtreme VIZIO Technology) Series HDTVs featuring Full Array TruLED LCD HDTV technology including the 42-inch XVT423SV, 47-inch XVT473SV and 55-inch XVT553SV models.
With added zones of Smart Dimming, unmatched 10,000,000:1 contrast ratios and 240Hz SPS (scenes per second) refresh rates, the new models outperform competitive HDTVs that use Edge Lit LED technology.
All of these new XVT televisions feature a sleek and slimmer new profile. Depths have been reduced from 5-inches to less than 3-inches.
Full Array TruLED technology
As other leading HDTV makers have elected to use Edge Lit technology, even in their most expensive models, VIZIO remains firmly committed to performance through the use of Full Array TruLED technology with Smart Dimming to deliver superior picture quality. Edge Lit designs exhibit variations in both light and dark from screen edge to center. TruLED designs present uniform brightness across the entire screen area. TruLED sets also provide much better off angle viewing and vastly superior black reproduction.
Smart Dimming
VIZIO's new Full Array TruLED sets feature additional zones of Smart Dimming, which improve performance and provide the highest contrast ratios yet. Additional zones of Smart Dimming allows for the ability to turn off individual zones of LEDs for the absolute blackest blacks. The 55″ XVT553SV and 42″ XVT423SV models have 120 zones, compared to 80 zones in their predecessor models, and the 47″ XVT473SV model steps up to 160 zones from 120 zones. These sets reach a 10,000,000:1 contrast ratio, a major improvement over the previous generation XVT series, which had a 2,000,000:1 contrast ratio. Additionally, VIZIO's 240 Hz SPS (Scenes per second) Smooth Motion technology provides sharp, blur-free images with less judder, even in fast action scenes.
VIZIO Internet Apps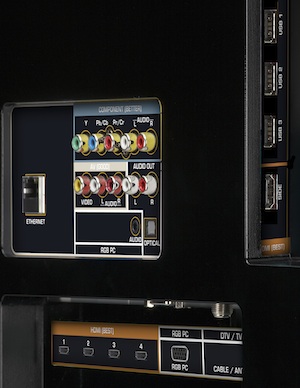 Each of these VIZIO XVT series HDTVs brings the best of the web to the home through VIZIO Internet Applications, the industry leader with over 75,000 movie and TV show options and 10 Million songs. Unlike competitive sets that require the purchase of external adaptors, VIZIO provides seamless state-of-the-art wireless Internet access through integral Dual Band 802.11n Wi-Fi. The user experience is vastly improved through the industry's only remote control with dual Bluetooth/Infrared functionality and a slide-out QWERTY keyboard.
Class-leading Sound Experience
High definition audio is an important element in each XVT Series set, enabled through the use of quality speakers and SRS TruSurround HD premium audio processing, which creates an immersive virtual surround sound from stereo and surround sources. In addition, SRS TruVolume eliminates sharp jumps in volume that may be heard when switching from channel to channel or coming in and out of commercial breaks.
All the Right Connections
Providing great flexibility for multiple sources including disc players, portable devices and gaming, the 55″ XVT553SV, 47″ XVT473SV and 42″ XVT423SV have 5 HDMI 1.3 inputs. All sets are available and shipping now.
VIZIO XVT Series
Model
Size/
Res.
Contrast Ratio
Smooth Motion
Smart Dimming
HDMI 1.3 Inputs
Dual Band 802.11n
VIZIO Internet Apps
Bluetooth Remote
SRS Audio
MSRP
XVT553SV TruLED
55″ FHD
10M:1
240 Hz SPS
120 Zones
5
Yes
Yes
Yes
Yes
$2,199
XVT473SV TruLED
47″ FHD
10M:1
240 Hz SPS
160 Zones
5
Yes
Yes
Yes
Yes
$1,799
XVT423SV TruLED
42″ FHD
10M:1
240 Hz SPS
120 Zones
5
Yes
Yes
Yes
Yes
$1,199
XVT373SV Razor LED
37″ FHD
1M: 1
120 Hz
Yes
4
Yes
Yes
Yes
Yes
$899
XVT323SV Razor LED
32″ FHD
1M: 1
120 Hz
Yes
4
Yes
Yes
Yes
Yes
$699
"Each of our XVT TruLED sets uses a Full Array with local dimming that produces an unquestioned superior picture. Many competitive manufacturers have decided to use only Edge Lit technology in their flagship products, but edge lighting results in an inevitable compromise in performance."
— John Schindler, VIZIO VP New Products