ViewSonic VFM1042-52
New Digital Media Albums Offer Rich Features and Innovation at All Price Points
ViewSonic Corp. today announced the availability of a new suite of digital media albums. From the feature-rich VFM842-12, VFM842-52 and VFM1042-52 digital media albums, to the powerful VFM1024w-11 and affordable digital photo frame VFA724w-10, ViewSonic's new lineup offers a choice of digital media albums for varying needs and price points.
"Our new digital media album product suite was designed not only with the latest innovations in photo and media display in mind, but also with the understanding that our customers have different technology and price expectations," said Josephine Chiu, senior product manager for ViewSonic. "From simple slideshows to complex video and audio playback, we are excited to help preserve memories with this latest range of digital display technologies."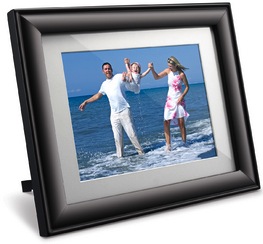 Flexible, powerful digital media albums — the VFM 42 line
With high resolution displays and robust storage capabilities, the VFM 42 line of digital media albums offers sophisticated display solutions, perfect for exhibiting and preserving memories in crystal clarity. Available as an 8.4 inch wooden ebony finish (VFM842-12) and an 8.4 (VFM842-52) and 10.4 inch (VFM1042-52) contemporary glossy black finish, these stylish digital media albums boast high resolution LCD screens of 800×600 and an industry leading 2GB capacity of internal memory, allowing ample room to store thousands of photos. With additional rich features, including auto on-off, auto picture rotation and a Split-Magic feature, with a four split screen setting for random image rotation, as well as calendar/alarm/clock features, the VFM 42 line provides intuitive use at a reasonable price.
The VFM 42 line will be available from early May at ESPs of: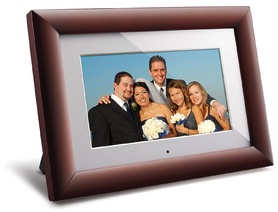 Ultra high resolution and vivid detail — the VFM1024-11
The 10″ VFM1024w-11 adds to ViewSonic's new product lineup by offering not only perfect picture clarity, but also multifunctional capability and intuitive menu control for flawless video play back and excellent music sound quality. The LCD color adjustment supports brightness, contrast, color and tint adjustments to create the perfect picture setting, while additional calendar, clock and alarm features keep you up to date as you view your favorite photo. With an ultra high 1,024×600 resolution screen for high density picture quality, onboard scaling, magic screen features for an enhanced viewing experience and an elegant 10″ cherry wood frame, the VFM1024w-11 makes an ideal special occasion gift or premium/incentive item.
The VFM1024w-11 is available now with ESP OF $109.99. In the run-up to Mother's Day, Amazon.com will be offering the VFM1024w-11 at a very aggressive promotional price.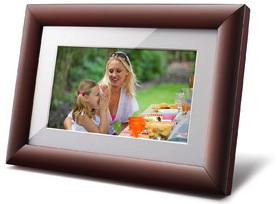 Affordable, intuitive quality — the VFA724w-10
Offering a cost-effective photo frame solution, the 7″ VFA724w-10 rounds out ViewSonic's new product lineup. This attractive cherry wood frame provides an affordable and user-friendly solution to digital photo display, offering an LED backlight as well as a slideshow format option to display multiple photos. With easy screen controls and 'plug and play' USB, SD, MMC and MS memory card compatibility, it's never been easier to share digital photos with friends and family.
The VFA724w-10 will be available from May 7 at an MSRP of $79.99.