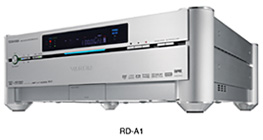 Integration of 1-Terabyte Hard Disk with HD DVD Recordable Drive Opens way to Recording and Archiving of High-Definition Video; To be Available in Japanese Market in July
TOKYO – Toshiba Corporation unveiled the future of home video entertainment in an age of digital, high definition content: the world's first digital hard disk video recorder integrating a recordable HD DVD in combination with a 1-terabyte (TB) hard disk. The new "RD-A1" can record and store up to 130 hours of high-definition (HD) broadcasts on its high capacity hard disk and record up to 230 minutes of HD content to a single HD DVD disc. In addition to superb image and sound recording and playback, the new recorder also offers an extensive range of advanced functions made possible by the versatility of HD DVD, including optimized navigation and menu displays. The RD-A1 is scheduled for roll out in the Japanese market from July 14.
The RD-A1 is the first video recorder to support recording and playback of content in the HD DVD format, the next generation of DVD format defined and approved by the DVD Forum. The recorder combines support for recording of full HD broadcasts with high capacity recording to HD DVD-R discs: up to 115 minutes of HD content to a 15-gigabyte (GB) single-layer HD DVD-R disc, and up to 230 minutes to a 30GB dual-layer HD DVD-R disc, allowing viewers to make HD DVD-R libraries of their favorite TV programs, whether dramas, movies or sport. Ease of use is also enhanced by the ability to record two TV programs, one digital HD and one analog, to the hard disk, simultaneously.
In addition to HD DVD, the RD-A1 also supports playback from and recording to conventional DVD-RAM/-RW/-R discs, giving users complete access to content recorded and saved in standard DVD. It also offers simplified transfer of DVD disc content to higher capacity HD DVD discs.
Another key feature among the many supported by the RD-A1 is support for 1080p output via HDMI, allowing viewing of "full HD" progressive scan video signals. Up-conversion of standard DVD to 1080p resolution output also enhances the enjoyment of current DVD software and recorded programs. Video and audio output is further enhanced by the design of the RD-A1's chassis, which isolates the player from vibration and optimizes the performance of its high-grade parts and components.
RD-A1 takes full advantage of the advanced functionality offered by the versatility of the HD DVD format, which far surpasses standard DVD in its extensive support for "pop-up menus" and advanced features such as Picture in Picture (PIP) with moving picture functions.
Outline of RD-A1
Suggested Retail Price in Japan: 398,000 yen
Launch in Japan: July 14th, 2006
Background
Toshiba launched "RD-2000," the world's first digital video recorder integrating a hard disk and DVD recorder in the Japanese market in 2001. RD-2000 introduced the world to a new way of viewing TV programs, "First record to hard disk, select and archive to DVD," and inspired a new market for "Hard Disk & DVD" where Toshiba still provides leadership and drives growth. Now, as HDTV broadcasting expands its services and service area, in readiness for the 2011 phase out of analog broadcasting in Japan, demand is growing for an "Hard Disk & DVD" solution that can handle high definition image quality and its larger data capacities. Toshiba delivers the clear answer with the RD-A1. The new recorder is the first HD DVD recorder, and combines it with a 1TB hard disk, and with it Toshiba leads the industry and supporting for HD DVD playbacks and recorders to be the first manufacture to bring the product in the market. Toshiba will enhance its line-up of HD DVD products by producing the products which integrates the next generation of DVD in the marketplace.
Key Features of the New Recorder
1. Record digital broadcasts to hard disk and HD DVD-R
Integrated digital tuners cover the full range of HD broadcasting sources–terrestrial, broadcast satellite (BS) and communications satellite 110° (CS) broadcasts–while another dedicated tuner handles analog broadcasts. The RD-A1 can record two broadcasts at once, one digital broadcast, one analog. The hard disk drive's terabyte capacity allows it record and playback 130 hours of HD broadcasts, and viewers are then free to select and archive their favorites to HD DVD discs. The RD-A1 supports two HD DVD-R capacities, a single-layer 15GB disc that can record up to 115 minutes of HD broadcasts, and a dual-layer 30GB disc that doubles that performance to 230-minutes, allowing viewers to build libraries of their favorite programs. The new recorder also supports recording of digital high-definition TV programs on conventional DVD-RAM/-RW/-R discs at standard definition image quality.
2. Playback of high definition content and support for advanced content features
The RD-A1, like the HD DVD players Toshiba has already launched, can play back HD DVD content software, and also supports the enhanced functionality and diverse features that content providers can build into their package software–a major step forward from standard DVD players. While specifics depend on the title, typical features include the convenience of a "pop-up menu" that displays menu choices or movie chapters while a movie plays, allowing viewers to search for desired functions or use the chapter guide to jump to a particular scene. The new product also supports PIP with video, a feature that allows, for example, comments by the director or actors to be superimposed over a movie while it is playing. The commentators can literally point to the material they are discussing. Audio output is as rich as video playback, as RD-A1 supports next generation surround sound formats, such as Dolby Digital Plus, Dolby TrueHD and DTS-HD, L-PCM 5.1ch, the same formats as Toshiba's first HD DVD players. Analog 5.1ch output integrated into the RD-A1 allows consumers to enjoy surround sound simply by connecting the player to an AV amplifier with analog input.
3. Support for RD engine for HD DVD
Toshiba has upgraded its successful "RD Engine HD" to provide dedicated support for HD DVD format. Upgrades include a graphic user interface with letter-box display compatibility and Toshiba proprietary multi-function recording software. RD Engine HD allows viewers to edit recorded high-definition programs on a frame basis, and transfer the edited video to an HD DVD disc. A useful function is high-speed write of DVD video sources to hard disks and high speed dubbing of that video to an HD DVD-R, allowing viewers to combine programs from multiple discs on a single disc. This compacting of video libraries is done without any loss of picture or sound quality.
4. Digital high definition picture of 1080p in HDMI output
Support for the up-conversion to 1080p output is achieved through implementation of the newest high performance scaler from Anchor Bay Technologies Inc. This converts and plays back 1080i HD content as 1080p full HD output. Furthermore, besides the HD DVD software and DVD software, it is also possible to playback past recorded DVD by up-converting them to 1080p output.
5. Body and parts designed for high definition picture quality and high quality sound
The RD-A1's design is optimized for high quality video and audio output by a special dual-layer body featuring a 1-millimeter main case and a metal sub frame. The recorder stands on special aluminum pillars designed to damp vibration and enhance high sound quality. The same attention to detail carries through to chief components. The RD-A1 is the first recorder to adopt a high-speed, high-performance 297MHz/14bit video encoder, making it possible to deliver HD quality via analog output through the D terminal and component terminal. High grade parts typically found in high-end audio products are also used in the RD-A1.
6. Internet connectivity via "Net de Navi"software, recommendation service, and DLNA guideline
The versatility of the RD-A1 is significantly enhanced by its Internet connectivity via "Net de Navi" software. Once in a network the recorder can be programmed remotely, via e-mail or the on-line iEPG, an electronic TV program timetable service. LAN connectivity allows configuration of a home network with Toshiba's series of digital high-definition LCD TVs in the "REGZA Z1000" series and with the "Qosmio G30" AV notebook PC, which supports DLNA guideline, and allows users to playback the recorded titles on different devices on the network.