AT&T announced the new Satellite Augmented Mobile Service with the TerreStar GENUS dual-mode cellular/satellite smartphone is now available. Intended to be used primarily as an everyday mobile device, the TerreStar GENUS smartphone is an innovative dual-mode device with cellular wireless capability as the primary default mode and satellite access capability as a secondary option for voice, data and messaging.
The TerreStar GENUS is the world's first smartphone that combines 3G cellular wireless connectivity with an all-IP satellite network on one device using one phone number. Offering coverage throughout the United States and offshore coastal waters, this innovative new solution will redefine the mobile experience for a wide range of users including government agencies, emergency response personnel, energy and utility companies, rural communities, transportation providers, and outdoor enthusiasts.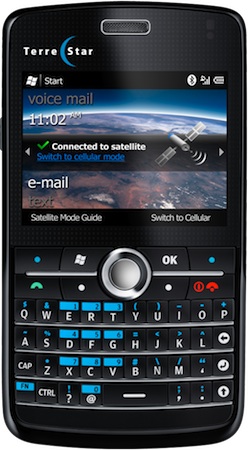 By integrating AT&T's 3G voice and data network with TerreStar's next-generation satellite capability, the TerreStar GENUS smartphone provides always-on connectivity. Smaller, more affordable and more feature rich than previous satellite devices, the TerreStar GENUS represents the future of mobile communications. Complete with the premium features found on today's most popular smartphones, such as touchscreen, 2.0 megapixel camera, MicroSD slot, WiFi, Bluetooth, GPS, and full QWERTY keyboard, the GENUS is intended to serve as an everyday mobile phone, with satellite capability as a backup option when needed.
The access to the TerreStar satellite network enables wireless communications coverage in remote areas for government, energy, utility, transportation and maritime users, as well as backup satellite communications capabilities for public safety agencies, first responders and disaster recovery groups.
With just one phone number and one smartphone device, users with a line of sight to the satellite will have access to expanded voice and data roaming coverage in the United States, Puerto Rico, U.S. Virgin Islands and in territorial waters. The TerreStar GENUS runs on the Windows Mobile 6.5 operating system to provide rich features and functionality, including a touch screen, Wi-Fi, Bluetooth®, camera and GPS.
Availability
The AT&T Satellite Augmented Mobile Service and the TerreStar GENUS is available today to enterprise, government and small business Corporate Responsibility Users. The service requires standard AT&T cellular voice and smartphone data rate plans, as well as a monthly satellite subscription feature. Usage of the satellite network for voice, data and messaging is not included in the monthly feature charge and is billed as per-minute, per-message or per-megabyte roaming charges on a customer's AT&T Mobility service invoice.