Brings Enhanced Mobile Functionality and Controls for Apple iPhone and iPod Players
Shure Incorporated today unveiled the SE115m+ Sound Isolating™ Headset with Remote + Microphone, the latest addition to the Company's acclaimed family of professional quality audio accessories for portable music players and smartphones. The Shure SE115m+ combines quality and functionality: the headset blends the detailed audio performance and superior sound isolation of the SE115 Earphones with an integrated remote control and microphone. The SE115m+ is fully compatible with the iPhone 3GS and current Apple iPod models.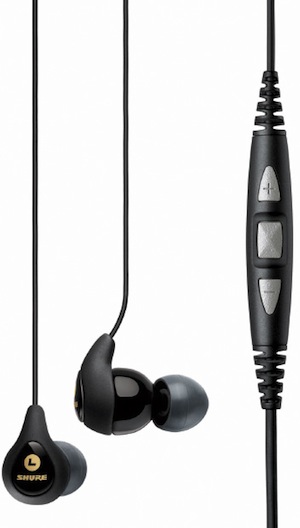 "Since the iPhone was introduced two years ago, Shure has been committed to building accessories that enhance the smartphone experience. Our Music Phone Adapter (MPA) has been wildly successful, so we're excited about introducing a fully integrated headset specifically built for the next generation of Apple phones," said Scott Sullivan, Shure's Senior Director of Global Product Management. "The SE115m+ blends functionality, performance and convenience with Shure's standard for professional audio quality and durability."
Shure's SE115m+ features a three-button remote control located on the right earpiece cable, enabling users to easily adjust volume, control music and video playback, record voice memos, and answer or end calls without having to remove their earphones.
Additional features include:
Dynamic MicroSpeaker II: Second generation Dynamic driver delivers detailed sound quality and enhanced bass.
Convenient Three-Button Remote Control and Microphone: The integrated three-button remote control enables users to take advantage of all the functionality of an iPhone 3GS or supported iPod model.
Isolation from Background Noise: Interchangeable earphone sleeves passively block outside noise by forming a tight seal with the ear.
Two-Year Limited Warranty: Offers rugged durability and guarantees long-lasting performance.
Pricing, Availability and Compatibility
Priced at $119.99 USD, Shure's SE115m+ will be available to consumers this month and will carry a two-year limited warranty. Shure's SE115m+ will be available exclusively at Apple stores and apple.com through the end of the year, and more widely available beginning in 2010 at select Shure Retailers.