Microsoft announced two Windows smartphones from Samsung, available at AT&T, featuring the new Windows Phone 7.5 Mango Operating System.
The Samsung Focus S (model SGH-I937) builds on the success of the award-winning and highest-selling Windows Phone in the U.S., the Samsung Focus. Available from AT&T for $199.99, it features a brilliant 4.3-inch Super AMOLED Plus display, a 1.4GHz processor, 4G-capable speeds and an incredibly thin profile at 8.55 millimeters; it also includes an 8-megapixel camera.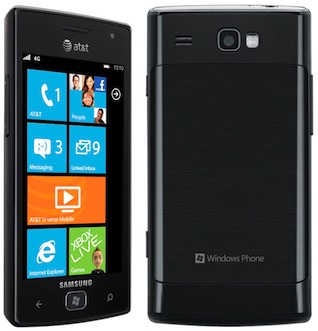 The Samsung Focus Flash (model SGH-I667) is designed to hit the market packed with value at just $49.99. Its 3.7-inch Super AMOLED screen will both fit in pockets and be light on pocketbooks, with the full power of Windows Phone 7.5 inside. As fast and lightweight as it is compact, it runs a 1.4GHz processor and has a 5-megapixel camera.
Windows Phone Features
Modern communications built in. Windows Phone makes it easier to connect with the people who matter by bringing together social media updates from Facebook, Twitter and LinkedIn and recent conversations — calls, texts, email messages, Windows Live instant messages and Facebook chats — all in one place.
A smarter way to app. Windows Phone makes it easier to discover new apps and get more from the apps you already have by surfacing apps as part of search results and connecting them to common tasks on the phone.
Internet beyond the browser. Windows Phone brings you fast Web browsing with Internet Explorer Mobile and the unique new Local Scout for recommendations on restaurants, shopping and events closest to you.
See more about: Newest Smartphones, Samsung Smartphones, Windows Phones