Flagship Head Unit with DVD Playback, Bluetooth, Pandora Radio and 7-inch Display
Pioneer Electronics (USA) Inc. officially launched its top-of-the-line, AVIC-Z120BT in-dash navigation system. The highly sophisticated flagship unit brings together the best route guidance features with more entertainment and convenience attributes that include PandoraLink for Pioneer App, MusicSphere™, Pioneer's proprietary music analysis software, a revolutionary 3D user interface and ECO Graph for eco-friendly drivers.
"In 1994, Pioneer was the first company to bring in-car GPS to the U.S. market, and today we are continuing to advance the navigation category with the launch of our highly intuitive, flagship AVIC-Z120BT. Our team of designers and engineers devised this model to not only deliver reliable route guidance and high quality audio and video, but also to enable users to easily adapt their personal devices to their cars. And, now with its capability to deliver Pandora's popular Internet music service, Pioneer again redefines the navigation category," said Ted Cardenas, director of marketing for the car electronics department, sales and marketing division of Pioneer Electronics (USA) Inc.
Navigation and Entertainment from A to Z
The AVIC-Z120BT is the latest entry in Pioneer's prestigious Z-series navigation systems, offering the best in in-dash navigation with compelling entertainment and sound quality features. It features an elegant, motorized high-resolution 7-inch WVGA touch screen display, 3D graphics accelerator, onscreen iPod/iPhone control, built-in Bluetooth for hands-free calling and wireless music streaming, USB connectivity, SD card slot located behind the motorized front panel, high quality CD/DVD audio/video playback, back-up camera input and is SIRIUS XM satellite and HD Radio ready. The AVIC-Z120BT's comprehensive map database from Tele Atlas covers the entire United States, Canada, Alaska and Hawaii, enabling users to route to millions of destinations including more than 12 million points of interest (POIs). Additionally, the unit features enhanced voice recognition, including the capability to input destination addresses by voice.
Unique to the 2010 Pioneer navigation line, the AVIC-Z120BT features dual zone entertainment, which enables rear passengers to enjoy DVD video and audio on a separate rear display and headphones, while front passengers listen to AM/FM or XM or Sirius satellite radio sources. Additionally, the unit also features several sound quality components, including Supertuner™ IIID, Radio Data System (RDS), dual A/V inputs, 7-band graphic EQ and 4-Volts preamp outputs (X3).
PandoraLink — Pandora internet radio fans using the service on an iPhone now have the same control interface directly on the AVIC-Z120BT. When users launch the PandoraLink for Pioneer App, Pandora will be displayed as a dedicated source on the AVIC-Z120BT and provide similar functions on its onscreen display such as detailed track information and album art. In addition to the capability of rating a track with "thumbs up" or "thumbs down," the dedicated user interface provides easy navigation on a large 7-inch touch screen display and allows users to bookmark a song or artist, skip the currently playing track, change stations and select Quickmix playback.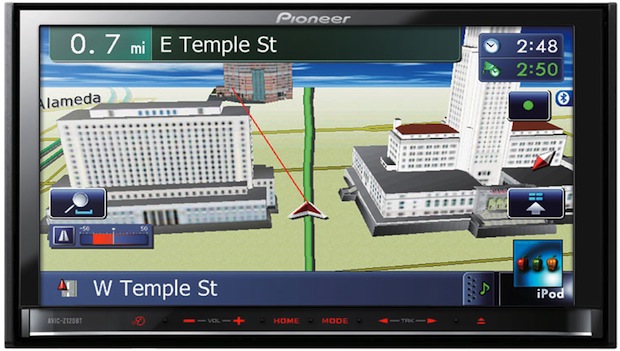 Advanced User Interface — 3D animation utilized in the navigation maps has also been applied to the audio interface providing a completely new in-car experience. The intuitive touch slide control capabilities of the AVIC-Z120BT feature dynamic shortcuts for source selection, expanded display of album art and improved display of audio track data. The receptive touch slide interface is also utilized for searching through music content with a new, improved dual-speed scroll for ABC and List Searches. The customizable home menu allows users to drag and drop up to 15 function icons into the home page display for easy one-touch access.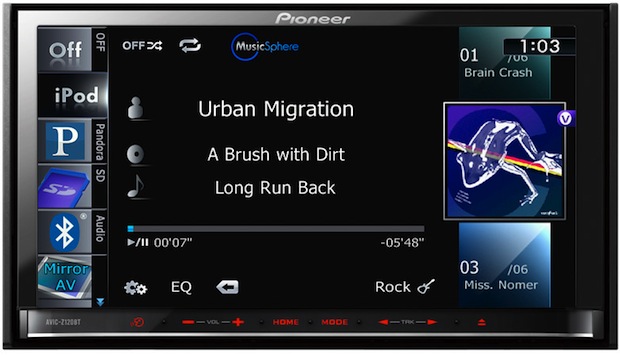 MusicSphere – Pioneer's new proprietary MusicSphere technology enables iPod and iPhone users to enjoy their library of music in a new way by creating unique, mood-based playlists that can be accessed onscreen with a distinctive 3D animated sphere. MusicSphere analyzes the user's entire music library and creates 40 specialized playlists based on various musical attributes of the songs, such as feeling (bright, energetic, gloomy, relaxing calm), rhythm pattern, Beats Per Minute (BPM) and year of the song and/or date added to the device. The specialized playlists can be accessed on the navigation display through an animated 3D sphere that can be rotated with a touch of the screen, providing a quick and highly visual method of selecting MusicSphere generated playlists. Additionally, the MusicSphere software allows users to create a "DJ Playlist" which will create a non-stop mix of the selected music types with the ability to blend between songs using transition effects.
ECO Driving – The system also features the second generation ECO Driving function which provides driving status reports as well as the driver's impact on the environment with visual graphics onscreen. Through Pioneer's proprietary AVIC FEEDS PC software, the unit can estimate the fuel cost of trip as well as the vehicle's CO2 emissions through detailed Drive Reports. Through a proprietary fuel consumption algorithm, AVIC FEEDS can also log and archive driving data and analyze driving habits to generate various reports with suggestions to improve fuel efficiency. The ECO Graph shown on the navigation unit visually represents the user's environmental impact, illustrated in 2D, 3D and divided map views. Additionally, when a route is set the system will calculate a Drive Score based on driving efficiency which factors abrupt stops, accelerations and idle time.
The AVIC-Z120BT can be fully integrated into a large number of vehicles with a 2-DIN dash opening, and can match any vehicle's dash lighting with its more than 30,000 customizable illumination colors.
The AVIC-Z120BT will be available in June for a suggested retail price of $1,599.