iPod Compatible Multimedia System for Displaying Photos, or Playing Music and Videos
Panasonic today announced the MW-20, a digital photo frame that doubles as a stereo sound system, complete with iPod Touch® and iPhone® compatibility — using the supplied cradle to display photos and play music stored on the popular mobile devices is easy and convenient. The MW-20, a slim multimedia system, also charges the iPod Touch/iPhone while it is connected to the cradle.
The Panasonic MW-20 can play back videos and photos on its large, high-resolution 9-inch screen, while incorporating advanced audio technology to provide superb sound quality.
Below the screen, there is a 5.6-mm Super Slim Semi Dome Speaker and a diffuser that optimizes the sound. In addition, the built-in DSP (Digital Signal Processor) adjusts the audio signal to suit the audio characteristics of this speaker system.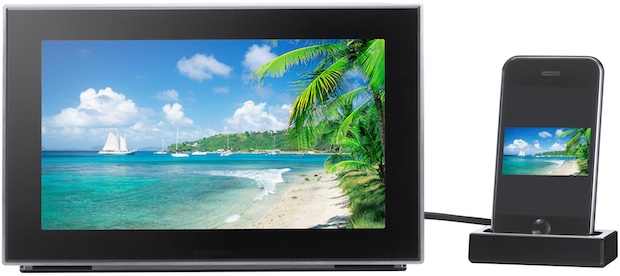 The MW-20 has an Adjustable Angle Display system that allows the angle to be changed to suit the viewing direction. With the supplied fixture, the MW-20 can be positioned in landscape orientation or hung on a wall. The MW-20 can display photos shot with a digital still camera by inserting an SD Memory Card into its slot. The MW-20 has 2GB of built-in memory for additional storage. The MW-20 features the LUMIX Scene Mode Playback function, which enables users to play back selected groups of photos shot with a Panasonic LUMIX digital camera using the iA Intelligent Scene Selector mode (Night Scenery, Portrait, Scenery, etc.). The MW-20 features 15 different display patterns to show a calendar, clock, photo — whichever combination the user prefers.
The MW-20 features an environmentally-conscious power-saving feature, with a luminance sensor that automatically adjusts the brightness of the screen according to the room lighting. For instance, when a room is dark, the MW-20 automatically shuts off. The Panasonic MW-20 will be available in late-November 2010 for $249.95.