Microsoft just announced a 10.6-inch Windows tablet with an ultra-thin detachable keyboard and integrated kickstand. Two models of Surface will be available: one running an ARM processor featuring Windows RT, and one with a third-generation Intel Core processor featuring Windows 8 Pro.
Conceived, designed and engineered entirely by Microsoft employees, and building on the company's 30-year history manufacturing hardware, Surface represents a unique vision for the seamless expression of entertainment and creativity. Extensive investment in industrial design and real user experience includes the following highlights: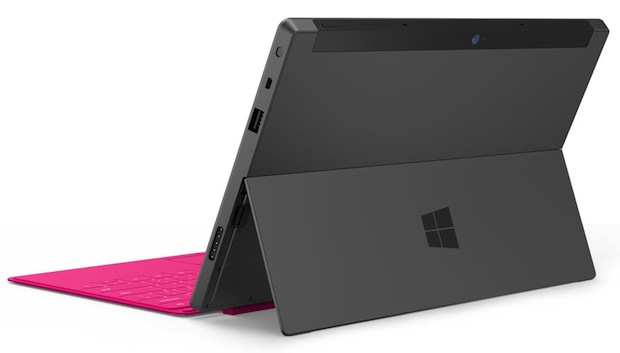 Surface sports a full-sized USB port and a 16:9 aspect ratio — the industry standard for HD. It has edges angled at 22 degrees, a natural position for the PC at rest or in active use, letting the hardware fade into the background and the software stand out.
The casing of Surface is created using a unique approach called VaporMg (pronounced Vapor-Mag), a combination of material selection and process to mold metal and deposit particles that creates a finish akin to a luxury watch. Starting with magnesium, parts can be molded as thin as .65 mm, thinner than the typical credit card, to create a product that is thin, light and rigid/strong.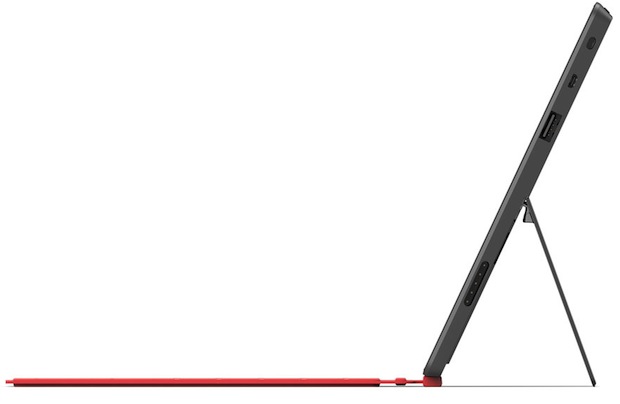 The unique VaporMg approach also enables a built-in kickstand that lets you transition Surface from active use to passive consumption — watching a movie or even using the HD front- or rear-facing video cameras. The kickstand is there when needed, and disappears when not in use, with no extra weight or thickness.
The 3 mm Touch Cover represents a step forward in human-computer interface. Using a unique pressure-sensitive technology, Touch Cover senses keystrokes as gestures, enabling you to touch type significantly faster than with an on-screen keyboard. It will be available in a selection of vibrant colors. Touch Cover clicks into Surface via a built-in magnetic connector, forming a natural spine like you find on a book, and works as a protective cover. You can also click in a 5 mm-thin Type Cover that adds moving keys for a more traditional typing feel.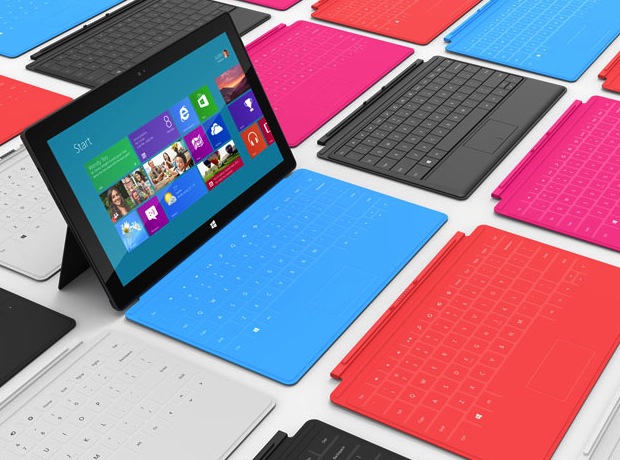 One of the strengths of Windows is its extensive ecosystem of software and hardware partners, delivering selection and choice that makes a customer's Windows experience uniquely their own. This continues with Surface. Microsoft is delivering a unique contribution to an already strong and growing ecosystem of functional and stylish devices delivered by original equipment manufacturers (OEMs) to bring the experience of Windows to consumers and businesses around the globe.
Surface for Windows RT
OS: Windows RT
Weight: 676 g
Thin: 9.3 mm
Clear: 10.6″ ClearType HD Display
Energized: 31.5 W-h
Connected: microSD, USB 2.0, Micro HD Video, 2×2 MIMO antennae
Productive: Office '15' Apps, Touch Cover, Type Cover
Practical: VaporMg Case & Stand
Configurable: 32 GB, 64 GB
Surface for Windows 8 Pro
OS: Windows 8 Pro
Weight: 903 g
Thin: 13.5 mm
Clear: 10.6″ ClearType Full HD Display
Energized: 42 W-h
Connected: microSDXC, USB 3.0, Mini DisplayPort Video, 2×2 MIMO antennae
Productive: Touch Cover, Type Cover, Pen with Palm Block
Practical: VaporMg Case & Stand
Configurable: 64 GB, 128 GB
Price and Availability
Surface for Windows RT will release with the general availability of Windows 8, and the Windows 8 Pro model will be available about 90 days later. Both will be sold in the Microsoft Store locations in the U.S. and available through select online Microsoft Stores. See more tablets.