MediaMax™ HD – The World's First HD DVD & Blu-ray Media Server Instantly Plays in Multiple Rooms 1080p HD DVD & Blu-ray Movies With Cover Art
Axonix Corporation, announces the release of the eagerly anticipated MediaMax HD Entertainment Server. MediaMax HD is being demonstrated at CEDIA Denver, Colorado September 6th – 9th in Booth 488.
Axonix has once again set a new quality standard in home entertainment. With support for both HD DVD and Blu-ray movies you can now enjoy the full potential of your Home Theatre with 1080p High Definition video quality. HD movies deliver vivid lifelike video with resolutions that are 6 times that of Standard Definition (SD) DVDs as well as enhanced 7.1 digital surround-sound audio.
MediaMax HD is the first Media Server to play via Cover Art or Metadata both HD DVD and Blu-ray movies. Other Media Servers including those based on variations of Linux and Media Center Edition ("MCE") OS's are either unable to play HD movies or they require you to manually browse a textual list of HD movie folders using an unintuitive PC type interface.
MediaMax HD DVD allows instant playback of media stored on its MediaServer including: HD and SD DVD movies, CD, MP3 and WAV music, photos and downloaded movies and music via the new Axonix NetPlay™ service. Any media can be played simultaneously in any room. MediaMax HD won the "Best Media Control" award at the 2007 Digital Convergence Summit.
MediaMax HD Features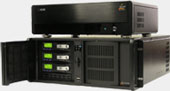 HD Movie Loading, Browsing and Playback
The MediaMax HD includes a MediaServer™ and one or more MediaDeck™ 4 HD Media Players which can include either an SD, HD DVD or Blu-ray drive that allows you to watch the DVD movie disc without loading it or remotely load the DVD movie or CD music disc onto the MediaServer.
Play Movies, Music and Slide Shows with an Easy, Elegant and Exciting Interface
The new MediaMax HD Interface allows you to instantly browse your media collection utilizing vivid HD quality Cover Art. You may also browse by Metadata including: Genre, Actor, Director, Artist, Album, Title, Favorites or by Playlists. Music playlists may be created on the fly while playing music. HD Photo slide shows may be played along with background music.
Supports the Widest Range of Media Formats
MediaMax HD plays more media formats than any other Media Server in the world. While many other Media Servers are limited to SD DVDs and CD music only, MediaMax supports all of the popular media formats including SD/HD DVD movies, downloaded movies, music CDs, downloaded WMA and MP3s, imported or ripped WAV, converted iPOD music, Internet radio, JPEG photos as well as other media formats.
Largest Free DVD/CD Cover Art Service
The exclusive Axonix Movie and Music Cover Art Service holds the world's largest collection of Domestic and International Movie and Music Cover Art. While some companies charge additional fees, the MediaMax comes with a Lifetime Cover Art Service that is free of charge.
Unmatched Integratability
MediaMax HD DVD offers the broadest interoperability with virtually any control system, including wireless handheld remote controllers to advanced home automation Touch Panel controllers from companies such as Crestron, AMX. Elan, Nevo, HomeLogic, Control4, Universal Remote, plus many others.
USA Pricing
Retail pricing for the MediaDeck 4 is $3,495 USD with an SD DVD/CD drive, $4,995 USD for the MediaDeck 4 HD DVD with an integrated HD DVD drive and $5,995 for the MediaDeck 4 Blu-ray with an integrated Blu-ray drive. All models* support the playback of HD movies loaded on the MediaServer. MediaServers with up to 13TBs of RAID 6 are available with or without an HD or SD drive. The Spectra 2 SD 500GB Series MediaServer starts at a retail price of $5,795 USD.
*Note: The MediaDeck 4 HD DVD supports the playback of movies with full DVD menu support while the Blu-ray model supports the playback of the movie without DVD menu support.
Availability, Warranty and Support
MediaMax HD has been shipping since June 2007. MediaMax HD is available exclusively through the company's worldwide network of 500 Authorized Dealers and Distributors. MediaMax HD is covered by a 3 year limited warranty with unlimited no charge phone support.
USA Distribution
Axonix Corporation USA Headquarters – 3785 South 700 East Salt Lake City Utah 84106 Sales Department: 800.866.9797 or +01.801.685.0900 Option 3 or sales@axonix.com Web Site: www.axonix.com
About Axonix Corporation
Axonix Corporation celebrates its 24th year of delivering tens of thousands of media appliances to companies such as Dell, Gateway and NEC. MediaMax™ is an award winning multi-room media server that loads, stores and delivers on-demand SD/HD movies, music, photos, online and other media. Combining elegant operation with uncompromised quality, MediaMax has quickly become the solution of choice for home, yacht, hotel and digital signage integrators around the world.