Meticulously handcrafted, audiophile-grade speakers, made from the finest materials for high-end home theaters
McIntosh Laboratory announced the XR series comprised of the XR50 bookshelf speaker, LCR80 flexible compact speaker and XR100 full range tower speaker. Like all McIntosh products, they are meticulously handcrafted in Binghamton, NY. McIntosh engineers spent years developing the XR series, utilizing the world's finest materials, such as titanium in the midrange and tweeter drivers.
All XR Series speakers are designed to be paired with acclaimed McIntosh collections such as the "SOHO" audio or "WESTCHESTER" home theater systems. A typical McIntosh home theater arrangement might include one pair of XR100 left and right-channel speakers, one LCR80 for the center and one pair of XR50s for the rear channels. All three models are available in premium real wood gloss finishes of Black, Pear Maple, and Red Walnut.
McIntosh President Charlie Randall noted: "With our XR Series, we are expanding our range of loudspeaker offerings that accommodate any setting for our consumers to enjoy the McIntosh music listening experience. We're especially proud of the fact that we were able to create speakers that not only deliver all the power, impact and emotional connection McIntosh is known for, but offer our customers a new speaker solution with a smaller footprint that fits perfectly into any lifestyle."
Innovative Technologies Add Flexibility to Ultimate Performance
The new XR Series speakers feature a host of leading-edge technologies for superior performance. The result is realistic and rich audio dispersion, with enhanced sound stage depth and the ultimate in realistic sonic imaging. With XR speakers, McIntosh claims listeners will enjoy a music listening experience that is as close to live performance as possible. Key design elements and technologies used include magnetically attached speaker grills covered in acoustically neutral black grill cloth, as well as alloy midrange tweeter baffles that provide a sleek, high-tech appearance while also helping to widen side-to-side sound imaging.
XR50 Compact Bookshelf Speaker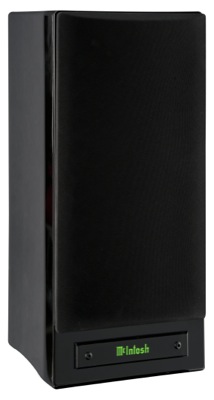 The XR50 is an ingeniously engineered compact bookshelf speaker that produces the kind of rich, full sound that one would normally expect from a much larger unit. The luxurious McIntosh styling is ideally suited for harmonizing with a McIntosh two-channel tube system. The McIntosh front panel logo, for instance, illuminates when connected to contemporary McIntosh equipment, matching and completing the "total system design" concept. The true three-way, four-speaker design allows for the widest possible audio range reproduction, delivering the three-dimensional sound quality prized by true audio aficionados. Notably, where speakers of this size typically use a single tweeter and woofer, the XR50 adds two additional midrange/tweeters below the range of the super tweeter. This special McIntosh design clarifies and extends critical voice reproduction which greatly enhances dialog intelligibility and dimensionality. The XR50 is designed for use with any amplifier, while also offering high power handling of up to 300 watts, allowing it to match the output of popular McIntosh amplifiers.
XR100 Full Range Tower Speaker



The XR100 shares the same design principles as the matching XR50 speaker while adding both deep bass and higher acoustic output resulting from both a taller floor standing cabinet and an increase in the number of internal speaker elements. Full range, high dynamic range performance is realized while maintaining a sleek cabinet appearance. Using a total of 13 speaker drivers in each XR100 cabinet provides the capability to reproduce the lowest bass notes, eliminating the need for a subwoofer in many spaces, as well as handling of amplifiers up to 600 watts of power. Conversely, the XR100 produces more sound per watt, more proficiently than smaller sized speakers. The combination of high power handling and increased efficiency enables the XR100 to approach the true dynamic range of live music and theater film sound.
LCR80 Flexible Compact Speaker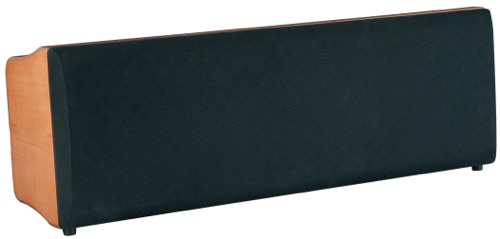 The LCR80 acoustically corresponds to the new XR50 and XR100 speakers and may be positioned horizontally or vertically depending on the requirements of the installation. The alloy midrange tweeter baffle is ingeniously designed so it may be rotated depending on the orientation of the speaker, allowing for total placement versatility. Included wall mounting brackets and built in mounting anchor points further increase placement flexibility of LCR80. Designed for use with amplifiers up to 300 watts output, the LCR80 is identically voiced to complement XR100 and XR50 speakers. Many users will find LCR80 to be the perfect speaker for use either in existing cabinetry, shelf mounted or attached to walls.
Price and Availability
The McIntosh XR Series will be available in February 2012 at the following suggested retail prices: