The new Evolution lineup of products builds on the design and manufacturing excellence realized with the Evolution One and Two.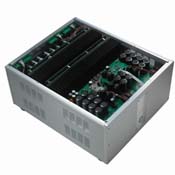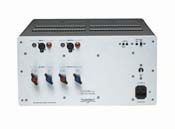 Orange, CT — February 27, 2006 — Krell Industries proudly announces shipping of the Evolution 202 preamplifier, Evolution 505 SACD/CD player, and the Evolution 402 and 600 amplifiers from their recently introduced Evolution series. The Evolution-branded products round out the series with new stereo and home theater components that represent the culmination of 25-years of Krell design and manufacturing excellence.
All Evolution components were engineered to be a natural extension of their 2005 counterparts; the Evolution One amplifier and Evolution Two preamplifier. Taking what they learned from those two benchmark products, Krell designed the new Evolution lineup with the same no-holds-barred approach to create an entire lineup of products that are without peer.
Like its inspiration the Evolution One, the new 600 amplifier is a monaural design, except with the advanced power supplies housed in the same chassis. Rated at 600-watts, the Evolution 600 features Krell's proprietary CAST (Current Audio Signal Transmission) circuitry that utilizes current gain topologies allowing the signal to remain in the current domain from input to output. Keeping signals in the current domain avoids unnecessary current to voltage conversions that add distortion, require heavy feedback and severely limit bandwidth.
Krell's Evolution 402, a 400-watt stereo amplifier featuring the same CAST circuitry as the 600 will also start shipping in Q1 of 2006. Both the 402 and 600 utilize a 5000 VA power supply that makes use of extensive electrical and magnetic shielding to keep radiated interference out of critical amplifier circuits. Also featured is the Active Cascode Topology which eliminates global negative feedback (only nested local feedback is employed around individual gain blocks) resulting is an extraordinarily open, liquid, effortless sound.
The Evolution 505, Krell's new SACD/CD player features a unique chassis-in-a-chassis design that provides ultra stable disc drive operation, while damping induced vibration from the electronics. Krell's Current Mode circuit architecture featured in each source is tailor made for SACD because of the format's extended bandwidth capabilities. Krell designed DAC reconstruction filters, Evolution CAST, balanced circuitry, multi-channel output, and RS-232 control combine to make the 505 the most advanced SACD/CD player on the market.
The Evolution 202 preamplifier was designed as a stereo counterpart to the monaural design of its big brother the Evolution Two. Like its sibling, the 202 utilizes a separate chassis for its power supply, making use of extensive electrical and magnetic shielding to keep radiated interference out of critical preamplifier circuits. Bandwidth of the 202 is rated at a staggering 1.5 MHz and is an open loop bandwidth design using zero negative feedback. Elegant but smart, the 202 also features an RS-232 port, IR and 12-volt controls for better integration into a state-of-the-art home environment.
The aesthetic of the new Evolution Series takes Krell's industrial design to an entirely new level. The machined custom aluminum chassis feature a 1.5-inch faceplate that not only looks incredible but fronts the resonance free environment that houses the sensitive electronics contained within. All Evolution series components maintain the stout and structurally sound build quality Krell is known for with the Krell-coat finish giving the components a timeless look with a feel that is inviting and built to last. Components are also available in diamond-cut silver or luxurious black finish.
Product model breakdown, availability and pricing for Evolution products available in Q1 can be found on the following page. For more information, please visit www.krellonline.com.
Evolution Series Product Breakdown
Sources
The Evolution 505 SACD/CD Player eliminates a cause of distortion that has plagued digital disc playback from its inception. By taking the nascent analog signal from the DACs and leaving it in its native language, current, the finest musical subtleties and textural shadings are preserved. The result is a perfect analog of the original recording. The Evolution 505 uses 24-bit /192 kHz DACs on all channels, and the left and right output circuitry provides CAST and balanced connections for optimal stereo playback. Separate power for drive mechanism, digital and analog circuitry maximizes the performance of all sections. A custom-wound toroidal power transformer, ten times larger than those found in typical source units, offers tremendous current and low noise operation for the analog circuitry. Several stages of regulation insure rock steady power to all gain stages for maximum dynamic impact. Evolution 505 supports SACD (single, dual, and hybrid), CD-R/RW, MP3, and WMA formats.
Evolution 505 SACD/CD Player – $10,000 — Shipping late 1st Qtr. 2006
Amplifiers and Preamplifiers
Krell's new line of amplifiers provides greater flexibility by offering mono, two and three channel set-ups. The Evolution 202 preamplifier mirrors much of the technological advancements of the Evolution Two, but in a stereo design. All Evolution amp and preamp models feature Krell's CAST technology and accurate signal reproduction is ensured by a topology known as Krell Current Mode. Realizing the entire design in the current domain eliminates the sonic degrading nature of circuit boards and increases the overall bandwidth. The greater bandwidth results in near flawless reproduction of the audible range.
Amplifiers
Evolution 402, 400-watts per channel stereo amp -$15,000 — Shipping late 1st Qtr. 2006
Evolution 600, 600-watt mono amp – $30,000/pair –Shipping late 1st Qtr. 2006
Preamplifiers
Evolution 202 stereo preamplifier – $15,000 — Shipping late 1st Qtr. 2006
Established in 1980, Krell Industries, Inc. is the premier manufacturer of high-end audio equipment. Guided by the innovative designs and guidance of CEO Dan D'Agostino, Krell's extensive line of amplifiers, preamplifiers, DVD players, surround sound processors, and loudspeakers are renowned for their exceptional quality, and the Krell brand has become synonymous with outstanding high-end performance among music and home theater enthusiasts everywhere.
Press Contact:
Caster Communications, Inc. at 401.792.7080
Nicholas Brown nbrown@castercomm.com
For digital images log on to www.castercomm.com