18 New Installer-Friendly Architectural Speakers Are The Largest Product Launch in Company's 40-year History
Jamo has a lot to be proud of these days. Not only did the Danish-inspired speaker brand recently celebrate its 40th anniversary and launch an all-new web site, it will introduce an unprecedented number of high-performance, easy-to-install in-wall and in-ceiling speakers next month.
The new 600 and 400 Custom product lines, consisting of 18 architectural models total, are designed for installers who want to save time and money and consumers who want superior sound from a discreet built-in speaker.
According to Jill Escol, senior marketing manager for Klipsch Group, Inc.–parent company for the Jamo brand–these innovative speakers are great for surround sound home theater or stereo music listening. "Not only do they incorporate the same exclusive technologies as our high-end box speakers, they're our most simple to install Custom products yet," she said.
Jamo core technologies, such as Decoupled Tweeter Technology (DTT), WaveGuide, Hard Conical Cones (HCC) and solid aluminum center plugs are all found in these Custom models.
Quick, easy installation is also a key component of the lines. Each speaker features a one-piece baffle and a unique bridge design that serves as a handle to hold the speaker in place during attachment. The paintable white grille is magnetic, and snaps into place over the baffle.
IC 610 SUR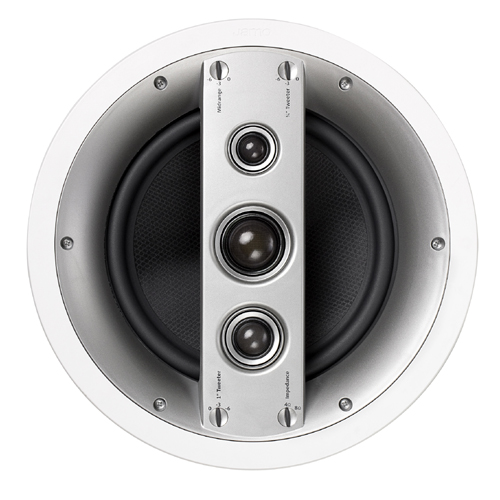 IC 610
The 600 lineup, which replaces the Jamo K4 series, includes the IW 606, IW 608, IW 625 LCR, IW 626 LCR and IW 606 SUR in-wall models; in-ceiling speakers include the IC 606, IC 608 and IC 610 as well as the IC 608 LCR, IC 610 LCR and IC 610 SUR.
Every 600 model features DTT silk dome tweeters for exceptional vibration-free performance and woofers with high-end fiberglass/cotton honeycomb/fiberglass composite drivers that achieve excellent vertical sound dispersion. Also, on the IW 606 and IW 608, you'll find Jamo's SoundAngle technology, which makes it possible to angle the sound (30 degrees) downward. This is ideal for when you want to place your speakers high above the listening position.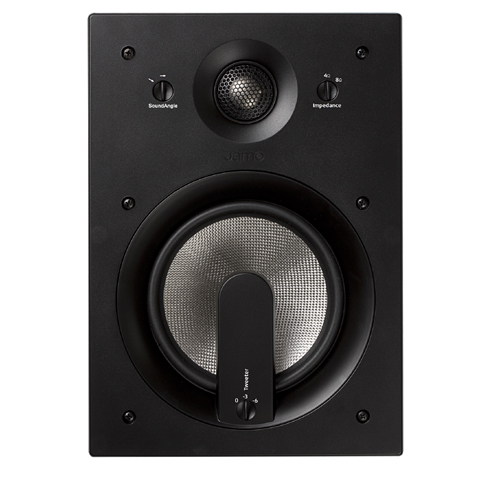 IW 408
The 400 line includes the IW 406, IW 408 and IW 425 LCR in-walls; the IC 406, IC 408, IC 410 and IC 408 LCR make up the in-ceiling lineup. These products, which replace the A2 series, feature high-performance titanium dome tweeters and ultra-durable Kevlar woofers. Also, the IW 406 and IW 408 feature the unique SoundAngle technology as described above.
Jamo's architectural speakers have become especially popular in the United States. Therefore, the company is using this massive product launch–the largest in its history–as an opportunity to build upon its new "Go Anywhere" ad campaign.
"One of Jamo's strengths lies within its global design capabilities. We pay attention to the different ways in which the world listens. Our products beautifully adapt and integrate into various environments of different cultures," concluded Escol.
The 600 and 400 custom speaker lines are priced from $299 to $899 (U.S. MSRP) each.
Core Jamo Technologies:
Decoupled Tweeter Technology (DTT): A mounting system that prevents unwanted wall vibrations that can cloud or color sound.
Hard Conical Cones (HCC): Allows for extremely low distortion throughout the range, as well as creates a very open and detailed mid-range for optimum voice reproduction.
WaveGuide: This technology, which involves the shape of the tweeter's faceplate, helps control the sound pattern for a more open and dynamic experience, as well as makes it easier to position the speakers in a room.
Center Plug: The center plug replaces the traditional dust cap to make the cone both lighter and more responsive; this design increases power handling and prevents breakup points resulting where the dust cap is glued to the cone.
About Jamo
Since 1968, Jamo has been at the forefront of the acclaimed Danish audio industry, consistently focusing on style, simplicity and functionality when designing its speakers, electronics, control systems and accessories for residential and commercial applications. Operating in more than 80 countries, Jamo also takes pride in how its products seamlessly adapt and integrate into various environments, reflecting the different ways the world listens. The Jamo brand is owned by Indianapolis, Indiana-based Klipsch Group, Inc. with global headquarters in Niva, Denmark. For more information, visit jamo.com.