Integra announced two new high-end 9.2-channel THX Ultra2 Plus Certified A/V receivers, models DTR-80.3 and DTR-70.3. Feature sets are very similar between the two receivers, except for a few differences. The DTR-80.3 is rated at 145-Watts per channel and has a high-current power supply with premium toroidal transformers for ultimate low-noise performance. The DTR-70.3 is rated at 135-Watts per channel and uses a different three-transformer power supply configuration with separate supplies for each major circuitry division.
Both offer the new DTS Neo:X dimensional sound processor, which is the industry's first 2.0/5.1/6.1/7.1-to- 9.1/11.1 conversion technology within a single algorithm, in addition to Audyssey DSX, and Dolby ProLogic IIz.. With eleven speaker- or line-outputs, these new models can accommodate a variety of different combinations of front, height, wide, and surround channels without the need to rewire speakers.
The other big upgrade is of the video processors. While all 2011 Integra receivers now employ the new Marvell Qdeo 4K (3840 x 2160 pixels) upscaling video processor, these new high-end models replace last year's HQV ReonVX chipset with the new IDT HQV Vida VHD1900. This provides additional high-performance video processing, including enhancement of low-resolution streaming video, and to facilitate ISFccc calibration capabilities.
Both feature the new HQV-Vida video processors, DTS Neo:X dimensional surround processing, Dolby Volume processing, improved networking and streaming media capabilities, plus numerous other features not included in last year's DTR-80.2 and DTR-70.2 receivers.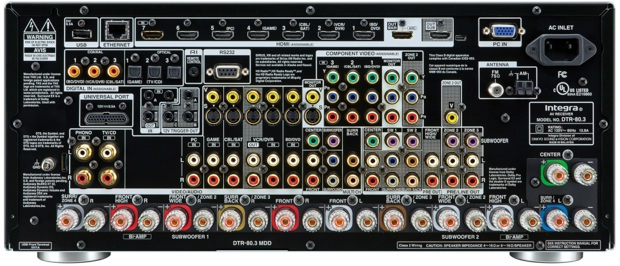 Integra DTR-80.3

Integra DTR-70.3
Both feature extensive networking capabilities with an Ethernet connection plus front and rear USB ports for digital storage devices and other devices. Direct digital connection for iPod/iPhone is available through the front panel USB. This receiver is certified for Windows 7 and DLNA, and can playback a great variety digital audio file formats via a home network or USB devices. An iPod or iPhone can also be connected using and optional dock connected via Integra's proprietary Universal Port, which can also be used for an optional HD Radio Tuner and forthcoming wireless devices. The network connection provides Internet radio and streaming music services, with preformatted service packages for Spotify, Mediafly, Pandora, Slacker, Napster, Rhapsody, vTuner, SIRIUS XM Internet Radio, and Last.fm.
Integra has also announced the immediate free availability of wireless remote control Apps that will allow all 2011 Integra processors and receivers to be controlled using an iPod/iPhone or Android wireless device.
Price and Availability
Both receivers are shipping now to Integra dealers and will be available soon at the following prices:
See more about: A/V Receivers, Integra Receivers