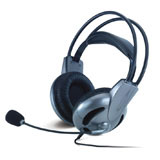 Genius Launches Extreme Game Pad and Vibration Headset to Complete the Online Gaming Experience
Genius (http://www.geniusnetusa.com), a division of KYE Systems Corp., today announced the availability of two new PC gaming-focused products, the Genius ErgoMedia 500 (game pad for Internet games and FPS – First Person Shooter – champions) and the Vibration HS-04V (vibration headset). The Genius ErgoMedia 500 features a comfortable non-slip wrist rest designed to support the palms and wrists during extended and intense game play. The Vibration HS-04V wireless headset takes game play to the next level with enhanced acoustics and deep bass resonance. Designed to work as a standalone product or in tandem with the on-board headset jack for VoIP in games and programmable keys for rapid movement makes the device ideal for any PC or Internet gaming enthusiast. Both new products are available immediately and are priced at $39.90 (ErgoMedia 500) and $24.90 (HS-04V).
ErgoMedia 500 Features:
Ergonomically designed for ultra-gaming comfort
Backlighting key cap for night-gaming
11 programmable keys
Built-in microphone jack for communication during game play
4-way directional buttons
3 game functions enabling gamers to dominate any level of game play
Genius' Vibration HS-04V is the newest addition to the popular headset line. The Genius Vibration HS-04V is a vibrating headset featuring a microphone with volume and bass control. The open design of the Genius Vibration HS-04V headset allows gamers to play for hours with maximum comfort. The Genius Vibration HS-04V is a great value, priced at $24.90.
Genius Vibration HS-04V Features:
Inline volume control and vibration switch
Powered by USB or AAA battery
Open design for maximum comfort during hours of PC gaming
Gooseneck microphone
Audio adapter included
Genius's ErgoMedia 500 and HS-04V are available for purchase from Amazon.com, Buy.com, Ingram Micro, Geeks.com, TigerDirect.com, NewEgg.com, eCOST.com, PC Club, the Genius E-Shop and other US retail outlets.
ABOUT KYE Systems Corp.
Founded in 1983, KYE is an international leading company in computer peripherals and famous for its Genius brand. KYE had expanded its portfolio of innovative peripherals to consumer electronics with continued leadership in design and quality. 2006's sales revenue of KYE posted its sixth consecutive year of record sales, US$410 million. KYE Systems Corp. is a Taiwan public company traded on the Taiwan Stock Exchange with symbol 2365.