Furutech Silver Arrows Pure Silver Phono Cable
Furutech Co., Ltd., manufacturer of ultra refined analog, digital, video cable and accessories, pulls the cover off the 2009 Silver Arrows Pure-Silver Phono Cable available in RCA/Straight DIN, RCA/ Angled L-DIN, and RCA/RCA.
La Grande Epreuve
Grand Prix racing's single focus: Testing the absolute limits of technology and performance. Furutech builds each and every cable in their line the same way. Optimized engineering solutions applied to advanced materials and processes with utterly meticulous build quality for the ultimate test.
Phono cartridge output is vanishingly small and easily polluted by RFI and EMI. Every element of signal transfer must be perfectly engineered to avoid distortion that robs music of life. If you're going to the trouble of playing vinyl why swamp the low-level signal in a veritable soup of noisy distortion right at its source!
All enthusiasts are looking for the same qualities: Verisimilitude to the original event, a sense of engagement promoting suspension of disbelief, an immersion in audio and video experience. To engage without effort requires meticulous preparation of the entire playback chain especially including cables and most importantly at the signal source.
The Silver Arrows Pure Silver Phono Cable achieves its remarkably quiet soundstage and elegant, nuanced sound with pure silver conductors, four-layer shielding and external ground wire, even a specially engineered cable clamp to improve grip and avoid any distortion whatsoever.
The Silver Arrows is available with three terminations…
DIN/RCA * L-DIN/RCA * RCA/RCA
Available Now!
Silver Arrows Features
The Silver Arrows Phono Cable features α (Alpha) Pure Silver Conductors, four-layer shielding for improved noise insulation, four-way grounding and an external ground wire. The insulation/dielectric is a special-grade air-foamed polyethylene, and a carefully engineered cable clamp improves grip and reduces mechanical and electrically-induced distortion.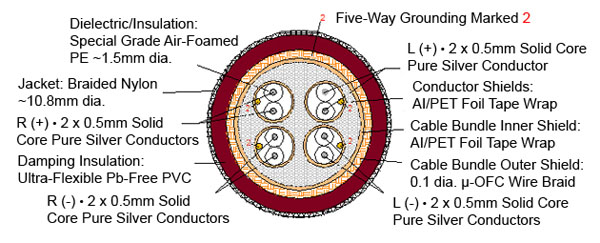 Silver Arrows CF-102r RCA Connector Features
The Silver Arrows CF-102r RCA Connectors feature α (Alpha) OCC rhodium-plated center conductors, α (Alpha) copper alloy rhodium-plated body, and a copper alloy wire set screw. It's supplied with rhodium-plated straight DIN, L-DIN 90°, or all RCA connectors. Connector shells are fabricated from nonmagnetic stainless steel and layered carbon fiber.
About Furutech
Furutech makes a wide variety of high performance 15A and 20A A/V cable and power connectors and parts, as well as distribution/filtering products like the new 120Hz standard xv1.3 HDMI cable, Ag-12 Silver Tonearm Cable, Pure Power 6, e-TP4+4, e-TP609 and e-TP60 Power Distributors, and e-TP80 Power Filters, deMag Disc and Cable Demagnetizer, the deStat, a fan-driven, Balanced Ion Drive device for totally eliminating static from LPs and CDs, DF-2 LP Flattener, lightweight and stylish FRD Room Diffusion Panels, PC-2 Disc Pure Cleaner, and their own very special NANO Liquid Contact Enhancer, plus even more fine cable and OEM products.