ESCORT Inc. just announced the PASSPORT iQ, the world's first and only convergence of radar detection, GPS navigation, optional Bluetooth technology, and more. Combining the benefits of ticket protection (against radar, laser, red light and speed camera ticketing) and GPS navigation (voice-guided, turn-by-turn directions and optional live traffic), the all new PASSPORT iQ represents the most innovative and fully integrated driving accessory available today. It sets the standard for protecting consumers from unwanted tickets and guiding them safely to their destination.
The all-new patented PASSPORT iQ is the world's first and only driving accessory that integrates radar/laser detection and GPS navigation, and also provides important driving information, such as speed traps and speed limit data, in a single compact device. Assuming the form of contemporary GPS personal navigation devices, the new PASSPORT iQ is framed in landscape profile with a large 5-inch full-color touchscreen.
Radar Detection
The PASSPORT iQ is based on the PASSPORT 9500ix, ESCORT's award winning GPS-enabled windshield mount radar and laser detector. The new PASSPORT iQ, with a 5″ color touchscreen, takes radar detection to a new level by clearly providing drivers with their current speed and heading as well as speed limit information. The PASSPORT iQ conveniently provides warnings if speed limits change and drivers are exceeding the posted speed. In addition, the PASSPORT iQ clearly overlays red light cameras, speed cameras, and high risk speed traps on the navigation screen. The PASSPORT iQ features a user-friendly choice of visual and audio alerts and can be displayed in selectable formats and colors.
Like other premium ESCORT products such as the PASSPORT 9500ix and 9500ci, the PASSPORT iQ uses artificial intelligence and includes ESCORT's patented AutoLearn feature, which automatically identifies and analyzes all radar sources. This technology allows the PASSPORT iQ to determine which threats are real and automatically locks out those that are false, including automatic door openers, motion sensors, and other sources that cause competitor radar detectors to constantly false alert when no real threats actually exist.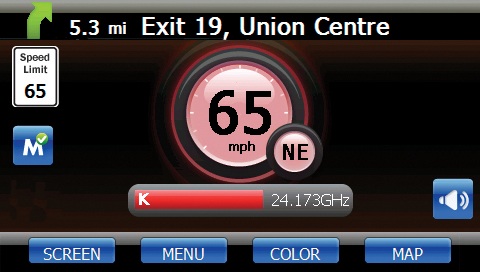 In addition, the PASSPORT iQ comes with ESCORT's Defender Database, winner of the industry's leading data-accuracy test for threat locations. The PASSPORT iQ is USB-web ready for updating the Defender Database with the latest safety camera and speed trap locations.
Navigation and More
The PASSPORT iQ offers easy-to-read 3D maps powered by NAVTEQ, voice-guided turn-by-turn directions and lane-assist — all of which provide comprehensive directions and updates for driving anywhere, anytime. Drivers can choose to use the PASSPORT iQ in the NAV mode with on-screen 3D mapping or select to display the PASSPORT iQ in the detector mode. In either format, drivers receive both visible and audible turn-by-turn directions to their mapped destination while always being protected from ticketing threats. The PASSPORT iQ helps you drive smarter by providing all the information necessary to help you avoid unwanted tickets while safely guiding you to your destination.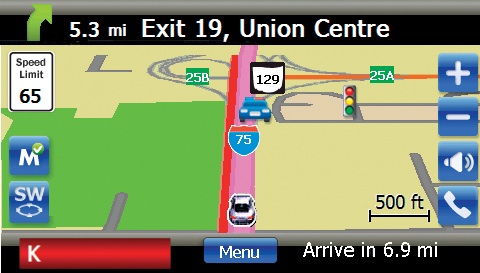 In addition, based on comprehensive consumer input, ESCORT plans to expand the PASSPORT iQ platform by developing an optional model that includes Bluetooth technology and live-traffic. This PASSPORT iQ version will help improve driver safety by allowing users to connect their phone for hands-free calling. Live traffic alerts will assist drivers to elude congestion and avoid being unnecessarily delayed.
Price and Availability
The PASSPORT iQ Radar/Laser Detector with GPS navigation starts at $649.95. The PASSPORT iQ is compatible with ESCORT's ZR4 Laser Shifting System, the ultimate laser protection, and ESCORT's line of detector driving accessories.