dreamGEAR announced the TriMount, the first-ever product capable of holding the Xbox 360 Kinect Sensor, PlayStation Eye and Nintendo Wii Sensor Bar simultaneously.
TriMount is the only product designed to hold all three sensors at the same time, firmly and securely on top of a flat panel TV or wall. TriMount is adjustable to easily fit most flat-panel TVs. Users also receive an optional mount to attach it directly to the wall.
"dreamGEAR developed the TriMount for the gamer who enjoys playing interactive games across multiple platforms and for families who play on different consoles," said dreamGEAR co-founder Richard Weston. "We are excited to offer TriMount to help reduce the clutter that comes from using multiple video game systems."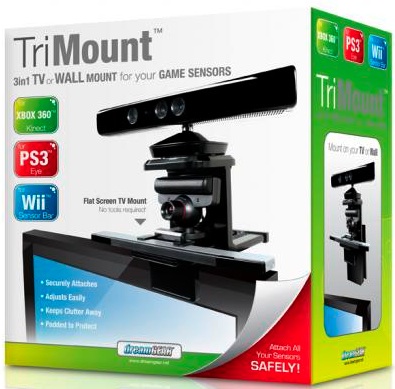 Padded with foam to protect both your TV and the device sensors, the patent-pending TriMount is perfect for gamers and families who have more than one of these popular gaming systems.
Price and Availability
The dreamGEAR TriMount will be availabe August 15, 2011 for $29.99.