Denon Electronics announced the N7 Network Music System which combines the RCD-N7 CD Receiver ($599) and SC-N7 Stereo Speakers ($199/pair). The sleek and compact N7 system gives listeners in today's networked digital age an opportunity to "free their music and free their minds" while enjoying great-sounding audio entertainment throughout the home.
The N7 mini system expands the digital music experience exponentially, letting users enjoy all their favorite music, from multiple content sources, including iPod and iPhone, in high-quality 2.1-channel audio. The RCD-N7 receiver and high-performance SC-N7 speakers both feature a simple, white "mod style" aesthetic and integrate smoothly in a full-functioning music system. With its iPod/iPhone dock, stereo loudspeakers and trendsetting profile, the N7 system is ideal for bringing powerful, great sounding music to any room in the house, including kitchens, bedrooms or dens.
The RCD-N7 CD receiver system lets you set your iPod or iPhone into a dedicated dock on the top to enjoy music with high-quality sound or listen to Internet radio or online music. Fast broadband connection to the Internet is achieved via an Ethernet cable or wireless LAN (Wi-Fi), allowing you to enjoy your favourite music or programs anywhere you like in your home. Since the RCD-N7 supports WPS, it is extremely easy to connect to a Wi-Fi network and immediately enjoy the benefits. Of course, you can also enjoy CDs, FM/AM radio, and music files recorded on USB memory or other media. Despite the RCD-N7's compact size, it delivers plenty of output power at 65W + 65W, filling your listening space with a beautiful, ambient sound.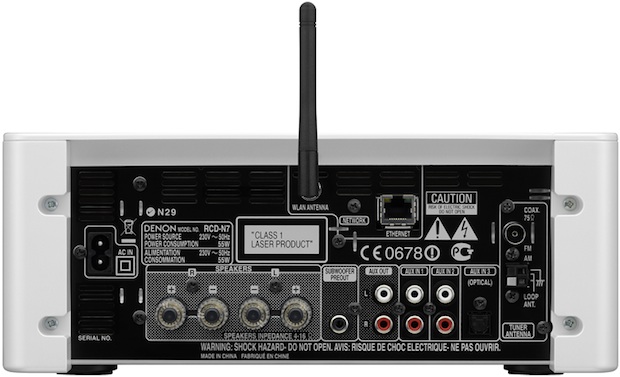 Easy Multi-Zone Network Streaming
By combining Denon's RCD-N7 CD Receiver and SC-N7 Stereo Loudspeakers, the N7 system offers users a straightforward, simple and efficient way to "free their music" and create a networked system throughout the home. For instance, Denon's special "Party Mode Plus" multi-zone network streaming management system for use with new Denon A/V receivers lets users control and play music simultaneously on up to five Denon devices on their network. In addition to full iPod/iPhone connectivity, the RCD-N7 allows users to listen to today's popular online music services such as Rhapsody, Napster, Pandora and Last.fm, as well as stream music wirelessly from their PC. A USB connector allows for enjoyment of music from USB type digital audio players, and the RCD-N7 also provides users with the capability to playback CD, enjoy AM/FM radio and more. Most importantly, the receiver features full digital processing, which allows for a pure signal transfer and optimum audio performance from all sources.
Features That Make Sense for NOW, With Up-to-Date Networking and More
The Denon N7 system makes it easy to access and control music from all of today's popular sources, and a host of simple, common sense features further heighten the fun of today's music listening experience. For example, Denon's new Remote App lets users operate all system control via their iPod or iPhone. Wi-Fi Protected Setup (WPS) allows for easy and secure establishment of a wireless home network, and a 3-line OLED display makes it easy to see exactly where the music is coming from. The unit's Plug 'n Play capability means that when an iPhone/iPod or USB device is plugged in, it begins to play automatically. The simple and intuitive remote control has a "Direct" button for instant access to the music source.
Custom installers will appreciate the inclusion of Denon's acclaimed Multi-Zone Management feature that allows them to quickly and easily perform a status check of all networked Denon products.
Availability
The Denon N7 is scheduled for availability in October 2010 for $798.