Canon Adds Two New Stylish, High-Quality Photo Printers To Its Renowned Line-up
For the at-home or small office user who wants to combine high-quality and fast photo printing with excellent text printing, the PIXMA iP4500 Photo Printer and PIXMA iP3500 Photo Printer, announced today by Canon U.S.A., Inc., are two great choices. The PIXMA iP4500 Photo Printer boasts high-resolution, fast photo printing speeds and five individual ink tanks to deliver professional performance. The PIXMA iP3500 Photo Printer offers four individual ink tanks and a 4-inch x 6-inch photo lab quality borderless print in less than approximately 50 seconds,1 all at a value price point.
"These new printers deliver high-quality photo printing with exceptional text printing. Canon's award-winning photo printer line now provides users with several choices over multiple performance and price ranges to satisfy a large variety of needs," said Yuichi Ishizuka, senior vice president and general manager, Consumer Imaging Group, Canon U.S.A. "Together with our strong line of photo and business All-in-One printers, Canon offers the printing consumer more choices than ever."
Building on Canon's current line of highly touted photo printers, these two models offer two levels of quality and speed with elegant styling and exceptional printing features.
CANON PIXMA iP4500 PHOTO PRINTER (above)
Designed for high-quality and fast photo and text printing, the PIXMA iP4500 Photo Printer features a maximum of 9600 x 2400 color dpi resolution2 and five Smart LED equipped individual ink tanks in the trailblazing Canon FINE print head. All these features together allow the printer to deliver print speeds of approximately 31 pages per minute (ppm) for black, 24 ppm for color and 21 seconds for a 4″ x 6″ inch photo lab quality borderless photo.1 Built-in automatic duplexing allows any user to print double-sided documents or photos without having to manually turn the paper. Imagine the ability to seamlessly turn a hefty 20-page report into a convenient and environmentally-friendly 10-page version. The PIXMA iP4500 Photo Printer has a stylish design with sleek curves and silver and black accents that enhances the look of any home or small office. The Canon PIXMA iP4500 Photo Printer will be available for an estimated selling price of $129.99.3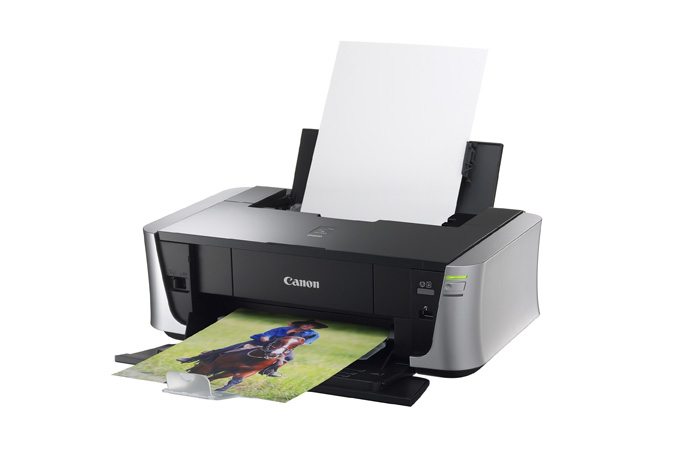 PIXMA iP3500 PHOTO PRINTER (above)
For consumers who require an even more wallet-friendly product, the Canon PIXMA iP3500 Photo Printer offers exceptional features at a value price. Elegant piano black with silver accents adds style to function. It boasts a maximum of 4800 x 1200 color dpi resolution4 and Smart LED equipped individual ink tanks in a Canon-exclusive FINE print head. Printing speeds are exceptional at up to 25 ppm in black and 17 ppm in color with approximately 47-second 4″ x 6″ photo lab quality, borderless photo printing1. The iP3500 Photo Printer is even equipped with dual paper paths for greater convenience, eliminating the time consumed switching paper types. The Canon PIXMA iP3500 Photo Printer will be available for an estimated selling price of $99.99.3
Full-photolithography Inkjet Nozzle Engineering (FINE)
These new Canon Photo Printer products can produce stunning output thanks to FINE technology. Launched globally by Canon in 1999, the Canon FINE advanced print head technology is one of the keys to the impressive speed and high photo quality in PIXMA photo printers. FINE technology uses a high-performance multi-nozzle print engine that ejects consistent and microscopic ink droplets. The results are high-resolution photos with great detail and clarity in less time.
ChromaLife100 System
The FINE print head employed by the PIXMA iP4500 and iP3500 Photo Printers, together with select genuine Canon photo papers and select genuine Canon inks, comprise the Canon ChromaLife100 system for long-lasting photo prints. When using the FINE print head, select genuine Canon photo papers, and select genuine Canon dye inks, prints can resist fading for up to 100 years when stored in an archival quality photo album. The 100-year-lifespan rivals that of many traditional film-based photos, long considered by consumers to be the benchmark for image permanence. Prints produced on Canon Photo Paper Pro with ChromaLife100 have up to a ten-year gas fastness when exposed to open air. ChromaLife100 prints, when created using Canon Photo Paper Pro or Photo Paper Plus Glossy, have up to a 30-year light fastness when displayed under glass.5
Creative Park/Easy-PhotoPrint EX
More than ever consumers are diving into digital scrapbooking, photo albums, calendars and crafting projects. Canon's Creative Park Web site at www.canon.com/c-park offers 3-D paper craft projects, scrapbooking templates, novel greeting cards, educational materials, and the opportunity to learn more about digital photography. Easy-PhotoPrint EX photo printing software is included with both printers and makes printing multiple size prints on a variety of Canon papers a snap with an automatic optimization by Auto Image Fix. With the newly updated Easy-LayoutPrint application, consumers can even produce beautiful photo calendars, albums, and stickers, with little to no hassle. Other features such as cropping, increasing saturation and correcting red eye are also included to allow the user to make corrections to images without having to use additional software.
About Canon U.S.A., Inc.
Canon U.S.A., Inc. delivers consumer, business-to-business, and industrial imaging solutions. The Company is listed as one of Fortune's Most Admired Companies in America and is on the 2006 BusinessWeek list of "Top 100 Brands." Its parent company, Canon Inc. (NYSE:CAJ), is a top patent holder of technology, ranking third overall in the U.S. in 2006i, with global revenues of $34.9 billion.
Specifications are subject to change without notice.
1 Photo print speeds are based on the default mode driver setting using photo test pattern(s) and select Canon Photo Paper. Print speed measured as soon as first page begins to feed into printer and will vary depending on system configuration, interface, software, document complexity, print mode, types of paper used and page coverage. PPM speeds are based on the highest speed printer driver mode using black and white and color text patterns. See www.usa.canon.com/printspeed for additional information.
2 Resolution may vary based on printer driver settings. Color ink droplets can be placed with a horizontal pitch of 1/9600 inch at minimum.
3 Pricing subject to change at any time. Actual prices are determined by individual dealers and may vary.
4 Resolution may vary based on printer driver settings. Color ink droplets can be placed with a horizontal pitch of 1/4800 inch at minimum.
5 Based on accelerated testing by Canon under controlled temperature, humidity, and gas conditions. For the 100 year figure, Canon simulated storage in an album with plastic sleeves. For the 30 year lightfastness figure, Canon simulated display of a photo in a glass frame in an indoor location without direct sunlight or other high intensity light. The 10 year gas fastness figure is based on a testing ratio of gases typical to an indoor air composition (O3: NOx:SOx=3:19:1) with 100 times concentration in order to accelerate color fading. Canon cannot guarantee the longevity of prints; results may vary depending on printed image, drying time, display/storage conditions and environmental factors. See www.consumer.usa.canon.com/ChromaLife100 for additional details.
i IFI Patent Intelligence Press Release, January 2007