First Mobile Printer To Deliver Up to 9600 x 2400 dpi Photo Capabilities in a Small, Stylish Design, Offers Many Benefits to the Mobile Professional
The new PIXMA iP100 Mobile Printer delivers high-quality text and graphics for printing a last-minute business presentation. This printer has increased color resolution with faster printing speeds than previous models, while offering a number of accessories that make it easier to conduct business outside of the office. The lightweight Canon PIXMA iP100 Mobile Printer fits easily onto a desk with limited space or into a carry-on making it the perfect laptop companion for business or personal travel.
The PIXMA iP100 Mobile Printer's new sleek and stylish design has a number of new exclusive features including increased color resolution to a maximum 9600 x 2400 dpi, the first-ever mobile printer to have a minimum one picoliter droplet size, and increased print speed as well. In addition, there will be two black inks, one a pigment-based black ink that delivers laser-like sharp text and another for printing rich photos. The overall size of the pigment black ink tank has been increased by 50%, reducing the risk of running out of ink during a last-minute project. A Canon first in the mobile printer category will be the addition of Auto Image Fix technology. When using a laptop, this technology automatically analyzes and categorizes the scenes in photographs and optimizes print output for each individual scene in accordance with the scene type, such as Portrait, Scenery, Snapshot, etc.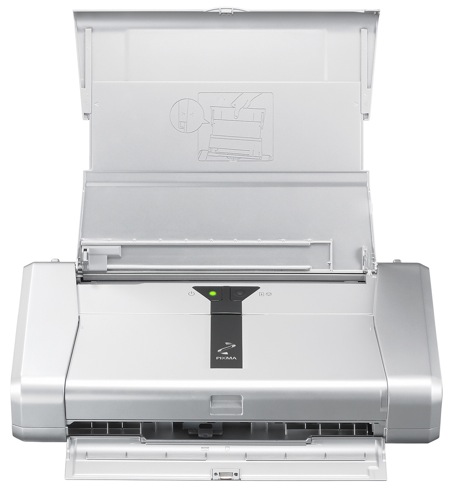 This PIXMA iP100 Mobile Printer proves its versatility by providing quality color and monochrome business documents, charts and graphs, as well as stunning photo quality prints. With print speeds of up to 20 pages-per-minute (ppm) for black and up to 14 ppm for color, this new mobile printer can deliver client-ready projects faster than previous models. The PictBridge port allows the busy business professional the option to print high-quality photographs from a compatible digital camera or DV camcorder without a computer. Having the ability to print out borderless, photo-lab quality prints in 4-x 6 inch, 4-x 8 inch, 5-x 7 inch, 8-x 10 inch, and letter size, makes this printer an ideal solution for the real estate professional who is now able to let clients walk away with images of a prospective home, or assist insurance investigators as they document claims faster and more efficiently.
Consumers have the option to print wirelessly from the built-in IrDA port or from select Bluetooth enabled cellular phones and computers with the new optional user installable Bluetooth Unit BU-30, which has an estimated selling price of $49.99. The PIXMA iP100 Mobile Printer features a standard USB 2.0 Hi-Speed connection.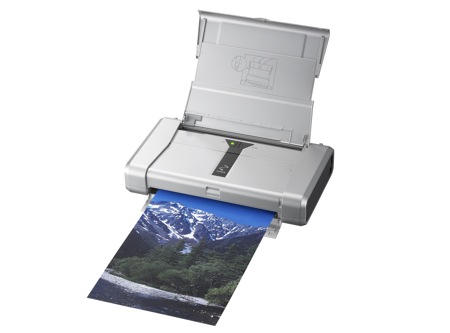 To match the new design of the printer, Canon will offer the optional LK-62 Lithium Ion battery with an approximate 290 page life per three-hour charge, along with the battery housing that connects to the printer, for an estimated selling price of $99.99. Mobile professionals on-the-go will especially benefit from the optional Automobile Power Unit (PU-200U). Users who frequently work from their car can use the Automobile Power Unit to power their PIXMA iP100 Mobile Printer directly through a car power socket. The Automobile Power Unit has an estimated selling price of $89.99.
The PIXMA iP100 Mobile Printer has an estimated selling price of $249.99.