Bowers & Wilkins announced the ISW-3 in-wall/ceiling subwoofer designed for customers looking for an installation subwoofer with as close to a "zero visual footprint" as possible. It can fit into ceilings, walls or custom millwork.
The ISW-3 features a unique forward-facing vent with a slotted grille that allows for installation into millwork and kitchen cabinets while venting through the base or toe kick, or it can be installed in walls, floors, or ceilings.
The subwoofer's two 6.5″ long-throw drivers vent through a 2 x 12″ HVAC-type slot. Thanks to the balanced driver design, mechanical energy is not transmitted to the enclosure, thus eliminating any rattling of glassware or dishes even as plenty of deep bass is pumped into the room. The ISW-3 can vent directly through its slot facing forward, at which point it is only 9.25″ deep (by 18.5″ tall), or it can used with a unique right angle adaptor for placement on its face, taking up minimal height inside a cabinet. Placement choice is optional depending on the installation requirement. It is only 13″ wide, designed to fit within many truss-style joists.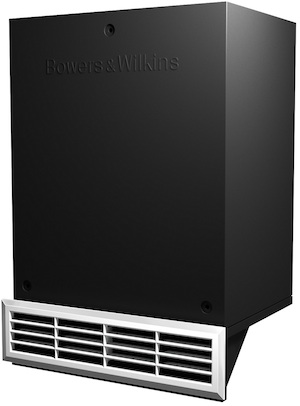 The ISW-3 is powered by a MkII version of the existing SA-250 rack mount amplifier. The SA-250MkII offers an external EQ switch setting for either the ISW-3 or ISW-4 in-wall subwoofer, plus a stereo summing input for distributed audio applications. A single SA-250MkII can power two ISW-3 or two ISW-4.
With usable, low-distortion bass output down to a very respectable 21Hz, it is a true subwoofer. No energy is lost through pliable "vent hoses" and the like–the box is as solid as a rock, for clean output. Whether for distributed music or for stealth media-room applications, the ISW-3 will allow consumers to see nothing while hearing everything.
For specifications see the datasheet (pdf).
Pricing and Availability
The B&W ISW-3 ($1,000) and SA-250MkII ($1,000) will be available in mid-summer 2011, making the total package $2,000.