Fully Digital Audio System With Revolutionary Playlist Technology
Bang & Olufsen, the world's leading provider of exclusive, high-quality audio and video products, announces the North American arrival of its first fully digital audio system, BeoSound 5. Commonly referred to as a "modern-day juke box", BeoSound 5 combines an unparalleled, high quality listening experience with an interactive piece of art to form a two component audio solution featuring an award winning playlist technology, intuitive graphical user interface, and an interactive, convenient operation for the end user.
"BeoSound 5 is unique as it is the only product available on the market which gives a strong physical presence to a virtual music environment," states Zean Nielsen, President of Bang & Olufsen America, Inc. "We believe this product will resonate with music enthusiasts of all ages as it will encourage a new way of listening to music in a high-quality, interactive manner."
Designed to make music much more visible, BeoSound 5 embodies elegance and intelligence, while providing instant access to one's music collection. Its distinct user interface presents a unique overview of the user's music. It combines physical elements (such as an aluminum wheel and tactile buttons) with virtual ones (a laser pointer and a specially-developed graphical user interface) on a high-quality 10.4″ LCD display. As the physical and virtual movements of the user interface are perfectly synchronized, the aluminum wheel and pointer mounted on the side of BeoSound 5 give users complete control over their content and all on-screen actions. This also facilitates one-hand operation for optimal ease-of-use and an astonishingly tactile experience.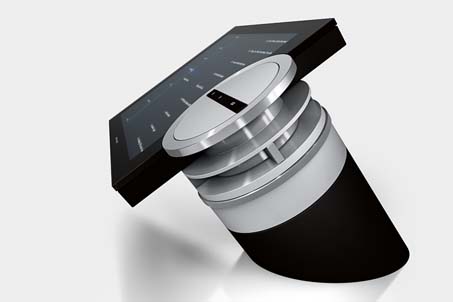 While the aluminum wheel lets one scroll swiftly through his or her music collection and countless internet radio stations, the user interface combines graphics and mechanics to provide an easy way to view and navigate large amounts of content. Make a selection and anything chosen is mirrored on the screen in an aesthetically pleasing array of colors, fonts and carefully choreographed graphic displays. By selecting only the necessary elements and elegantly displaying them on the screen, Bang & Olufsen combines ease-of-use with a surprisingly sensual experience.
With BeoSound 5, intuitive operation and extreme user convenience are redefined with its breakthrough 'MOTS' (More Of The Same) intelligent playlist technology. MOTS, an award-winning concept with two patents pending, is an intelligent algorithm which automatically captures the unique musical identity of a track and then builds a playlist of similar music. MOTS automatically scans one's music library and finds similar tracks based on parameters such as sound, dynamics and rhythmic aspects. As the algorithm uses mathematical analysis of the actual music, not genre or mood tags, to match tracks, MOTS effectively lets one rediscover the hidden favorites of one's music collection on the basis of his/her initial choice.
BeoSound 5 is an intelligent audio player with a two component set up. All the digital music files, covers and internet radio stations accessed on BeoSound 5 are actually stored on a separate socket unit, BeoMaster 5 — a black box designed to be discretely placed out of sight. It includes all the circuitry, memory and internet connections in a storage space capacity of 500 GB, capable of providing around 20,000 songs in lossless WMA format. This two component set up additionally allows for flexible placement options including a table stand, wall bracket or minimalistic floor stand.
Due to its highly advanced signal processing and lossless WMA format, BeoSound 5 brings the listener even closer to the quality of the original recording and will restore the value and desire for a true listening experience.
BeoSound 5 arrives in all North American Bang & Olufsen showrooms this February 2009. MSRP begins at $5900 and includes the BeoSound 5 master unit and the BeoMaster 5 socket unit. Additional pricing includes $500 for the floor stand, $250 for the table stand, and $100 for the wall bracket.
Bang & Olufsen a/s
Bang & Olufsen was founded in Struer, Denmark, in 1925 by Peter Bang and Svend Olufsen, two young engineers devoted to high quality audio reproduction. Since then, Bang & Olufsen has become an icon of performance and design excellence through the strongest possible commitment to a combination of high-tech research and development and a long-standing craftsmanship tradition.
Still at the forefront of domestic technology, Bang & Olufsen has extended its comprehensive experience with integrated audio and video solutions for the home to other areas such as hospitality and automotive industries in recent years. Consequently, its current range epitomizes perfect sound and vision in the home as well as in the car and on the move. Further information about Bang & Olufsen a/s is available from http://www.bang-olufsen.com.