Aperion Audio just introduced the Aperion Signature SLIMstage30 Soundbar, a slim profile speaker system for HDTVs. The SLIMstage30 is designed to create theater-like sound for flat-panel HDTVs in secondary viewing locations, such as bedrooms, dens, and children's play areas where simplicity and room aesthetics are just as important as the surround sound experience. Although simple to connect right out of the box, an easy to use settings menu also allows enthusiasts to optimize the sound for their specific room and personal preferences.
As households add a second or third flat-panel HDTV, these secondary viewing locations may not accommodate a 5.1 home theater speaker system due to room size, layout, or pure aesthetics. "Because of our direct relationship with consumers, we were able to sit down in one-on-ones with key decision makers in the home," said Ed de la Fuente, VP of Marketing for Aperion Audio. "Most consumers already expect that a single speaker really can't match the surround sound performance of a discreet 5.1 home theater system, but for these secondary locations they place a premium on aesthetics such as wanting the speaker to visually disappear under the TV. Still important, however, are dialogue intelligibility, a wide surround effect, and clean, dynamic bass — like they get in the theater," he said. De la Fuente added that "While both men and women desire simplicity of setup and use, the audio enthusiasts also want the ability to 'tweak' the system for optimal sound in their home — so after giving them an accurate starting point, we made sure to include that functionality as well."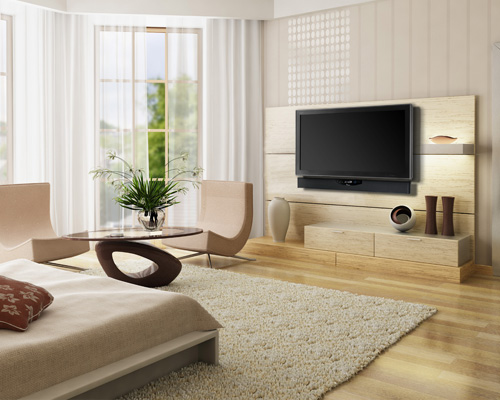 The system includes the Aperion Signature SLIMstage30 Soundbar and the Aperion Bravus 8A Subwoofer which provides 100W RMS of low frequency power. The SLIMstage30, engineered in partnership with Soundmatters International, Inc. of Reno, Nevada, includes the 31-inch wide powered soundbar, with a profile of only 3½ inches high by 3¾ inches deep, and is finished in a gloss black wrap-around grille to fit most HDTV aesthetics. Soundmatters' patented Linear Magnetic Drive™ speaker array is driven by a total of 140W RMS (at less than 0.8% THD) to create a clear and wide surround sound image. With its built-in decoding of both Dolby Digital and DTS™ Digital Surround, this soundbar accurately recreates what movie producers intended using Euphony HD™ surround technology, which does not require reflecting walls to create a virtual surround experience.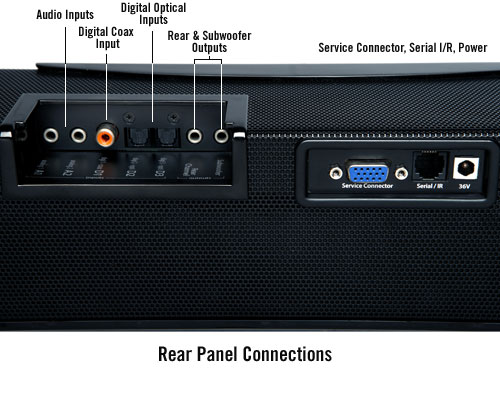 Key Features:
Slim design with piano black finish to match the aesthetics of your flat-panel TV
Complete sound system works right out of the box, no home theater receiver required
An immersive viewing experience provided from a simple two-piece speaker system
Projects detailed surround sound from both analog and digital 5.1 signals, without the need for surround speakers or an A/V receiver
Front panel 1/8″ mini-jack input for iPod/MP3 player with automatic selection
Decodes Dolby Digital and DTS Digital Surround
Euphony™ HD surround sound technology
Subwoofer can be placed out of sight, connected to the SLIMstage by a single wire
Soundbar Weight: 16.5lbs, Dimensions – 31.1″ Wide x 3.5″ High x 3.7″ deep
Warranty:
Aperion Signature SLIMstage30 Soundbar Warranty: Two year limited warranty covers all defects in material and workmanship.
Aperion Audio Bravus 8A Subwoofer Warranty: Ten year limited warranty covers all defects in material and workmanship. Three year warranty on the amplifier.
Pricing and Availability:
The Aperion Signature SLIMstage30 Soundbar and the Aperion Bravus 8A Subwoofer system is priced at $799. The Aperion Signature SLIMstage30 Soundbar standalone unit is priced at $599. Both are available now.