Aperion Audio, a consumer direct maker of award-winning home theater speaker systems, has added their first ever outdoor speaker. The Aperion Intimus Outdoor Speaker is the company's sixth new product introduced this year, growing its line of audio speakers which continues to receive accolades from the likes of CNET, Stereophile Magazine, Home Theater Magazine, and other expert reviewers.
Aperion's new outdoor speaker was developed to meet customer requests for an outdoor audio solution that provides a similar value as the existing Aperion home audio speaker line. "Our goal was to create an outdoor speaker that comes as close as technically possible to the performance of our bookshelf speakers, one that would resist the elements and provide years of reliable use while not compromising on sound quality — and I believe we've achieved that," said Mike Hopkins, Aperion Product Development Manager.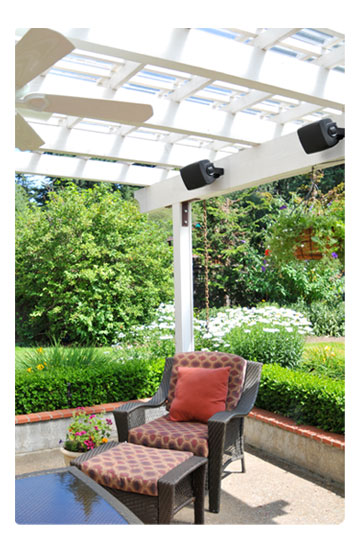 The Aperion Intimus Outdoor Speaker
Bringing the experience of a concert in the park to your patio, backyard, or pool area required combining an audiophile grade tweeter and woofer with a rugged weather and UV-resistant cabinet. The Aperion Intimus Outdoor Speaker features a bass adjustment switch, an aimable mounting system, and is voice matched to the entire line of acclaimed Aperion Intimus speakers.
"In contrast to most speaker designers, we've chosen not to compromise on the bass sound quality which is often affected by outdoor speaker placement. By adding a bass adjustment switch, the listener is able to customize the level of bass, whether under an eave or in a bass boosting corner," stated Ken Humphreys, Lead Speaker Engineer at Aperion Audio. "By using a dual voice coil woofer, the listener can simply flip a switch for more or less bass."
Key Features
Adjustable bass switch
1″ Audiophile-grade silk-dome tweeter
6.5″ Dual voice coil, woven-fiberglass woofer
Acoustically transparent, powder coated metal grille
Weather and UV-resistant ABS polymer cabinet
Aimable mounting system
5-Way gold-plated binding posts
Available in Alpine White or Satin Black
Ten year warranty
Risk Free 30-Day In-Home Audition™
FREE SHIPPING BOTH WAYS
FREE lifetime customer support
Priced at $149 and now shipping
Pricing and Availability
The Aperion Intimus Outdoor Speaker is available in Alpine White or Satin Black at AperionAudio.com, or at Aperion's showroom at 18151 SW Boones Ferry Road in Portland, Oregon, and retails for $149. (Prices always include free shipping.)
About Aperion Audio
Based in the beautiful Pacific Northwest, Aperion Audio is an award-winning direct-to-consumer speaker manufacturer for smart shoppers who are frustrated with the retail experience, and the only speaker company to deliver an honest and completely Risk-Free 30-Day In-Home Audition™. The company's primary storefront, AperionAudio.com, is a fun and informative loudspeaker and subwoofer shopping destination which is supported by "Home Theater Gurus" who supply generous support before and after the sale. At AperionAudio.com, everyone from the newbie to the audiophile is able to find the information they need to research and build an exceptional home theater speaker system or upgrade their audio environment. For more information, visit AperionAudio.com or call 888-880-8992.