Wharfedale announced three PowerCube Series active subwoofers, models SPC-8, SPC-10 and SPC-12 with 200mm, 250mm and 300mm drivers respectively. Each subwoofer offers continuously adjustable crossovers, an 'infinite baffle' design that Wharfedale claims delivers faster, more accurate bass response than ported bass reflex designs.
The PowerCube series is powered by Class D power amplifiers at 150-watts for the SPC-8, 200-watts in the SPC-10 and 350-watts for the SPC-12, which provides deep bass to 30Hz. The downward-firing drivers featured throughout the range are capable of large excursions whilst maintaining exceptionally accurate pistonic movement. The low pass filter slope can be adjusted from 30Hz to 150Hz, while the steep upper bass roll-off slope produces cleaner bass.
All PowerCube models incorporate an ingenious movement sensor that detects when someone is in close proximity to the subwoofer, automatically illuminating the top-mounted controls. This makes it easier to adjust the settings in dimly lit rooms — ideal for when you wish to make little tweaks, but not hit the lights.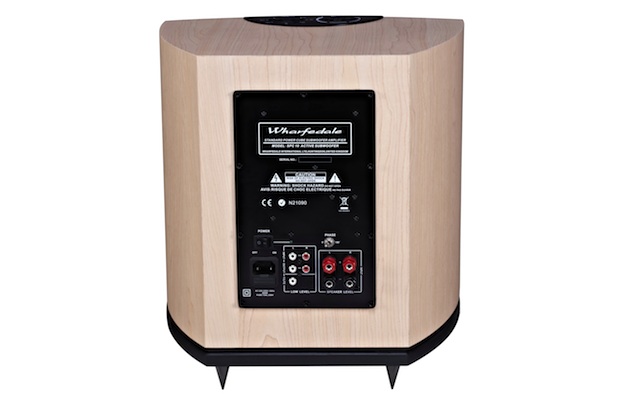 Peter Comeau, Director of Acoustic Design for IAG (Wharfedale's parent company) commented:
"The aim was create a range of high-quality powered subwoofers to suit a variety of rooms, tastes and budgetary requirements. Whichever Wharfedale speakers a customer chooses — Diamond 10 Series, the new Jade models or speakers from another Wharfedale range — there is a PowerCube sub that will suit perfectly. The high-performance Class D amplification, long-throw drive units and rigid sealed-box construction combine to deliver bass that is supremely clean, powerful and controlled, from subwoofers that are easy to site and simple to operate."
Pricing and Availability
The Wharfedale PowerCube Series is available from August in a choice of seven finishes: Blackwood, Cherry, Rosewood, Walnut, Cool Maple, Winter Maple and Wenge. Suggested retail prices are £249.95 for the SPC-8, £299.95 for the SPC-10 and £499.95 for the SPC-12.
Specifications: Wharfedale PowerCube Series
Model
SPC-8
SPC-10
SPC-12
Type
Active balanced-drive closed-box subwoofer system
Active balanced-drive closed-box subwoofer system
Active balanced-drive closed-box subwoofer system
Drive units
1x200mm (8 inches) long-throw cone
1x250mm (10 inches) long-throw cone
1x300mm (12 inches) long-throw cone
Frequency response
40 – 120Hz ±3dB
35 – 120Hz ±3dB
30 – 120Hz ±3dB
Amplifier power output
150-watts
200-watts
350-watts
Crossover range
30 – 150Hz
30 – 150Hz
30 – 150Hz
Inputs
Stereo line-in (2xRCA phono); mono (LFE) line-in (RCA phono); stereo speaker-level in
Stereo line-in (2xRCA phono); mono (LFE) line-in (RCA phono); stereo speaker-level in
Stereo line-in (2xRCA phono); mono (LFE) line-in (RCA phono); stereo speaker-level in
Input Impedance
Line in: 10kΩ
LFE: 5kΩ
Speaker-level in: 1kΩ
Line in: 10kΩ
LFE: 5kΩ
Speaker-level in: 1kΩ
Line in: 10kΩ
LFE: 5kΩ
Speaker-level in: 1kΩ
Features
Phase inversion
Auto on/off function
Phase inversion
Auto on/off function
Phase inversion
User selectable auto on/off switch
Signal-to-noise ratio
≥75dB
≥75dB
≥75dB
Avg. max output @ 1m
110dB
114dB
117dB
Dimensions (HxWxD)
345x295x268mm
382x352x305mm
442x400x355mm
Weight
7.3kg
11.4kg
15kg
MSRP
£249.95
£299.95
£499.95