VIZIO announced the VAP430 Stream Player, a set-top box that turns any HDTV into an enhanced VIZIO Internet Apps Plus (V.I.A. Plus) smart TV that incorporates the latest Google TV. The Stream Player allows consumers to access countless entertainment content and online services with web access through a fully capable Chrome browser, and to also enjoy photos, music and video stored on any computer, hard drive or smart phone connected to a local network and/or the cloud.
With the VAP430 connected to an HDTV over an HDMI cable, users can quickly and seamlessly access content and services from their favorite apps and websites using the included Bluetooth premium universal remote control with integrated touchpad. In addition to movies, TV shows and music on demand, the VAP430 lets users search the web for even more entertainment options using the Flash-capable Chrome browser.
Using the included premium remote with QWERTY keypad and integrated touchpad, viewers can easily search for any program or content they want from their favorite apps or the Internet. Users can also check out new apps from an ever-expanding Android Market, or access personal media like videos, photos and music that are stored on devices connected to the same home network as the stream player. Images are displayed right on a connected TV set, and sound plays through the TV or a connected audio system.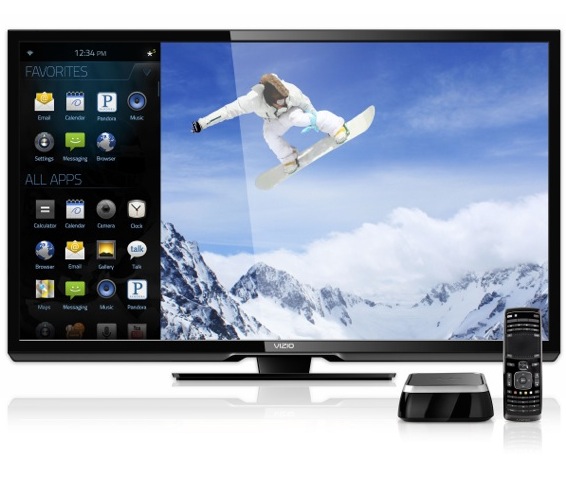 The VAP430 can easily connect to any HDTV using an HDMI cable. Installing the VAP430 and connecting it to the Internet is blazingly fast and simple to do with the built-in setup experience and 802.11n WiFi connection.
The VAP430 also has a HDMI pass-through that lets the user connect a cable or satellite box to the stream player and pass the signal over to the TV for a truly integrated TV watching experience. The smart TV interface overlays the live TV signal so multitaskers can search for the next thing to watch without completely stepping away from what they're currently watching.
Bluetooth capability also makes it simple to enjoy content from smart phones through the connected TV wirelessly. And with the USB input, connecting any USB drive directly to the VAP430 takes only seconds.
VAP430 is the first V.I.A. Plus device to launch this year, followed by the VBR430 3D Blu-ray player, which combines the features of the VAP430 with Blu-ray's state-of-the-art high-definition video and audio playback capabilities.
Price and Availability
Preorders for the VIZIO VAP430 will begin this spring 2012. Price TBD.