Faster Speeds, Higher Capacity, Increased Versatility and Ease of Use with New USB Adaptor
Sony is expanding its line of Memory Stick media to offer higher levels of versatility and mobile entertainment options. The new products include enhancements that range from USB connectivity and pre-bundled movie content to faster data transfer rates and higher storage capacities.
The newest member in the line is the HX series of Memory Stick media, offering high speed and convenience at an affordable price in either 4 or 8 GB capacities. The new HX products include a USB adaptor and enable higher transfer rates — especially for large capacity files.
"New consumer electronics devices such as digital SLR cameras and HD camcorders are driving the demand for higher capacity storage with greater connectivity and faster transfer speed," said Shane Higby, director of marketing for Sony Electronics' consumer media group. "With the included USB adaptor, the new HX series gives users the convenience of transferring pictures and video to their PC faster and easier."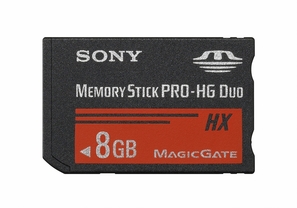 The new HX series offers a 20 MB/s read speed and 15 MB/s write speed, about three times faster than regular Memory Stick PRO-Duo™ media. Sony Alpha DSLR users, for example, can enjoy continuous shooting at five frames per second when using this media.
New Memory Stick Entertainment Pack
Sony is also introducing a new version of its Memory Stick Entertainment Pack, which lets users choose one of four movies from Sony Pictures Entertainment. The featured titles, which have a combined box office total of more than $1 billion worldwide, include: "Surf's Up," "The Da Vinci Code," "Talladega Nights: The Ballad of Ricky Bobby" and "Benchwarmers."
This pack includes a launcher DVD featuring the four movies, and users can easily unlock the title of their choice using a provided code and transfer it to the Memory Stick media. Each movie is optimized for playback on Sony's PlayStation3 or PlayStation Portable systems.
The Memory Stick Entertainment pack is available in the 2GB and 4GB PRO Duo capacities and at the same price as the regular Memory Stick PRO Duo versions.
New Memory Stick Micro M2 Media
Rounding out the expanded Memory Stick portfolio is a new line of Memory Stick Micro™ (M2™) media, designed for use with compatible Sony Ericsson multimedia phones. These new models are available in one, two, four and eight GB capacities, and come with a USB adaptor, giving users the flexibility to copy data to their M2 media and then transfer it to a PC with USB port.
"Sony Ericsson phones have become full entertainment devices, with an expanded lineup featuring Walkman phones and Cyber-shot phones that need more storage," said Higby. "The new Memory Stick Micro media offers ease of use and convenience for sharing or transferring, digital images and music."
The following is suggested pricing and availability for the new Memory Stick media:
Memory Stick PRO-HG Duo HX (4 GB), October, $54.99
Memory Stick PRO-HG Duo HX (8 GB), October, $99.99
Memory Stick Micro M2 (1 GB), October, $24.99
Memory Stick Micro M2 (2 GB), October, $34.99
Memory Stick Micro M2 (4 GB), October, $44.99
Memory Stick Micro M2 (8 GB), October, $79.99
Memory Stick Entertainment Pack (2 GB), September, $34.99
Memory Stick Entertainment Pack (4 GB), September, $44.99