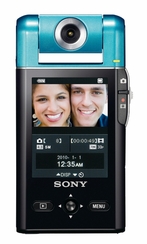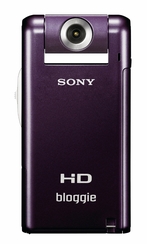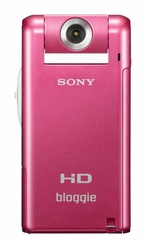 Sony Bloggie MHS-PM5
Two New Stylish Devices Deliver High Definition MP4 Video and Photos to the Web with Ease
Sony is providing consumers with networked products to enhance the entertainment experience and chronicle their everyday lives with Sony's new portable bloggie™ cameras, which made their worldwide debut at CES 2010. The bloggie camera offers simple, high quality MP4 video and still photo shooting, as well as easy web sharing capabilities.
With the MHS-CM5 and MHS-PM5 bloggie cameras that capture everyday moments in full high definition 1920×1080 MP4 video and 5-megapixel still photos, Sony offers innovative and stylish pocket devices. Once captured, the content can be easily uploaded online via the device's embedded software and built-in USB arm.
"Pocket cameras are coveted by anyone who loves to capture and share spontaneous moments, so we made these devices compact, easy to use, and with high quality video," said Andy Bubala, director of the camcorder business at Sony Electronics. "With the new bloggie cameras, Sony creates a new standard of mobility with products and technologies that answer consumers' on-the-go needs."

Sony Bloggie MHS-CM5
The MHS-CM5 camera sports a "pistol-grip" vertical design for more comfortable shooting, with a large flip-out 2.5″ (measured diagonally) LCD screen. It also has 5x optical zoom to get you closer to the action. The bloggie camera even features an HDMI output, letting you enjoy photos and high definition clips on your HDTV.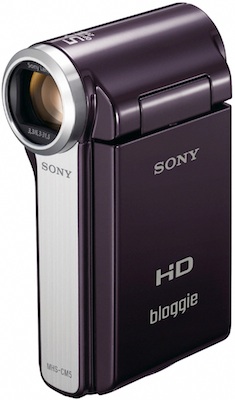 The ultra-compact, lightweight MHS-PM5 camera slips easily into a pocket or purse so it can be taken anywhere to catch special moments on-the-go. This design is offered in four fashionable colors — dark purple, blue, pink, and white — and features a rotating lens that swivels 270 degrees to capture life from any angle: get down low, aim high or record yourself. The bloggie camera has 4x digital zoom and SteadyShot image stabilization (cannot be used in 1920×1080/30p and 1280×720/60p recording modes) to reduce shake for smoother footage that can be viewed on a crisp 2.4″ (measured diagonally) LCD with full-screen, horizontal playback in landscape format.
Sony is also offering the MHS-PM5K, which is a bundled kit option that includes a lens to let you experience incredible 360 Video. After attaching the lens, the bloggie camera captures 360-degree footage that can be viewed on a computer with the supplied PMB (Picture Motion Browser) software. It's a completely new way of seeing the world.
Both cameras also feature Face Detection technology to recognize and enhance faces by automatically correcting exposure. Eliminating the need to hunt for cables, they can be quickly charged with the USB arm and record video and still images directly to Memory Stick PRO Duo™, Secure Digital (SD), or SDHC media (sold separately).
A New Way to Share Photos and Videos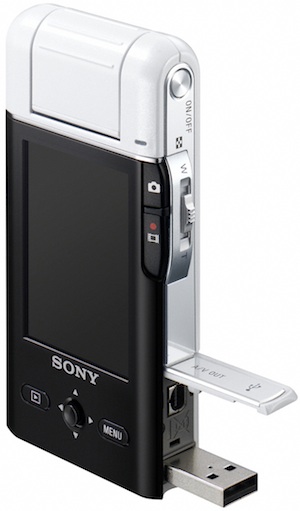 Sony Bloggie MHS-PM5
By connecting the camera to an internet-capable compatible PC or Mac via the built-in USB, the pre-installed PMB Portable software transfers content to video and photo sharing websites. It includes direct upload to Shutterfly™ and Picasa™ Web Albums photo sharing sites, YouTube™ and Dailymotion™ video sharing sites and Photobucket™ video and photo sharing site. You can also simply drag and drop video files from the camera to your personal computer folders.
This spring, Sony will launch a new content-sharing service and a new integration with Facebook. The new Sony service will allow users to easily share their photos and videos privately with friends and family, while the Facebook integration will complement the existing sharing capability with popular websites. These features will be available as a downloadable update to the "PMB" and "PMB portable" software applications that are bundled and embedded with bloggie products respectively.
The MHS-CM5, MHS-PM5K and MHS-PM5 are available today for about $200, $190, and $170, respectively. The bloggie cameras will be sold at Sony Style retail stores, online at www.sonystyle.com/bloggie and through authorized dealers nationwide.