Bluetooth Travel Stereo Headphones with apt-X Codec
The new PX 210 BT from Sennheiser guarantees perfect sound whenever you're on the move — and without being restricted by cables. The folding high-end headphones are the entry-level model in the top-of-the-range wireless class from Sennheiser. Bluetooth technology with the new apt-X codec ensures that audio data are transmitted in optimum quality.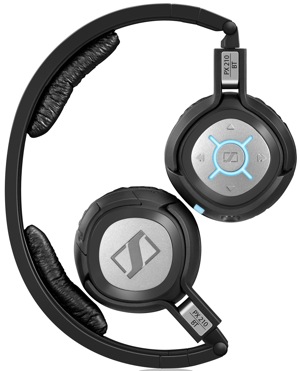 The PX 210 BT has been specially designed for use with Bluetooth players. "Music and speech are reproduced in excellent quality, while still allowing you complete freedom of movement," said Maurice Quarre, Head of Product Management Consumer Electronics at Sennheiser, describing the qualities of the new headphones. The PX 210 BT has a transmission range of up to ten metres, which means that the audio source can easily be kept in a backpack or bag when you're out and about. The controls of the PXC 210 BT are located directly on the earpiece. They can be used to activate or deactivate the Bluetooth function, regulate the volume and select individual songs. And even if you want to spend a little more time in the company of Rihanna, Joe Cocker or your favourite bands, that's no problem either: the rechargeable lithium polymer battery lets you use the headphones for up to 12 hours before it needs recharging.
No cables and no loss of sound quality
Listening to music is even more fun when you're not restricted by cables, especially when the sound quality leaves nothing to be desired. The PX 210 BT has powerful neodymium magnets that ensure a natural and lifelike sound image with a frequency response of 15 to 22,000 Hertz. Sennheiser's patented Duofol diaphragms almost entirely eliminate standing waves.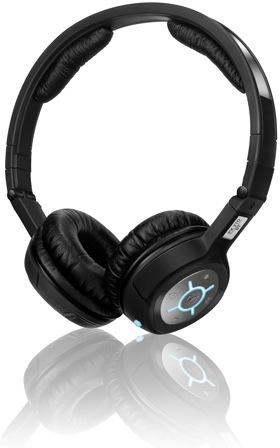 "Sennheiser makes no compromises when it comes to sound quality," said Stephen Wray, Vice-President Licensing at APTX. That also applies to their wireless headphones. With its new apt-X codec, the PX 210 BT guarantees Bluetooth transmission with only minimum delay and outstanding audio quality. Sennheiser is one of the first manufacturers to utilise this format in headphones. "The use of apt-X means that Sennheiser customers can now enjoy what we call audiophile Bluetooth stereo," Stephen Wray added. For audio sources that do not yet support the new apt-X codec, the PX 210 BT automatically reverts to the standard A2DP Bluetooth transmission format. But even this equipment can be made apt-X capable by using a separately available adapter.
Comfortable on the move
The PX 210 BT not only looks great, it's also extremely comfortable: with a weight of just 105 grams and small, soft ear cushions, it fits comfortably on the ears. A handy folding mechanism and the carrying case included in the set make it an ideal travelling companion.
The PX 210 BT will be available from August. The set includes a lithium polymer rechargeable battery, a battery charger with adapters for use in different countries and a cable.
The Sennheiser Group, with its headquarters in Wedemark near Hanover, Germany, is one of the world's leading manufacturers of microphones, headphones and wireless transmission systems. The family-owned company, which was established in 1945, recorded sales of over €385 million in 2008. Sennheiser employs more than 2,100 people worldwide, around 55% of whom are in Germany. Sennheiser has manufacturing plants in Germany, Ireland and the USA, and is represented worldwide by subsidiaries in France, Great Britain, Belgium, the Netherlands, Germany, Denmark (Nordic), Russia, Hong Kong, India, Singapore, Japan, China, Canada, Mexico and the USA, as well as by long-term trading partners in many other countries. Also part of the Sennheiser Group are Georg Neumann GmbH, Berlin (studio microphones), K + H Vertriebs- und Entwicklungsgesellschaft mbH (Klein + Hummel studio monitors, installed sound) and the joint venture Sennheiser Communications A/S (headsets for PCs, offices and call centres).
APTX develops and markets high-quality, low-delay audio compression solutions for both professional and consumer audio applications. The company's world-renowned apt-X technology — comprising a growing portfolio of advanced audio codecs that includes Standard apt-X, Enhanced apt-X, apt-X Live, and apt-X Lossless — is licensed to industry-leading electronics OEMs for use in broadcast equipment, professional audio systems, and consumer electronics, including IP codecs, digital wireless microphones and speakers, stereo Bluetooth A2DP headphones, and portable media players. Headquartered in Belfast, Northern Ireland, APTX has satellite offices in Europe, North America, Japan, and Korea.