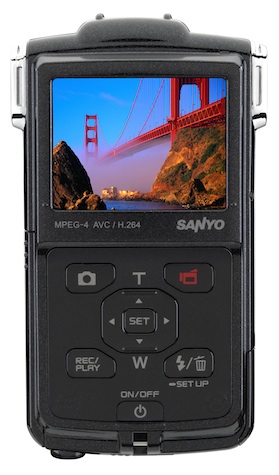 Captures 10-megapixel Digital Photos and Full HD Videos with 3x Optical Zoom
SANYO today introduced the new Full HD (1920 x 1080 30p) Pocket-Size Dual Camera, model VPC-PD2BK, with embedded software for easy use and sharing on social networks. The camera is the only one of its kind that offers Full HD video recording, 10-megapixel photo shooting, and 3x optical zoom in a stylish form factor that is about the size of a deck of cards. The camera will be available for purchase in September with an MSRP of $169.99.
The new pocket-size dual camera makes it a snap to shoot, connect, view and share both photos and videos on social networks like YouTube, Facebook, and Picasa. Two microphones on the sides of the camera record stereo sound.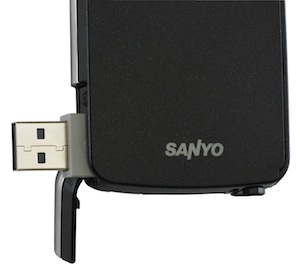 The SANYO VPC-PD2BK has a High Speed Sequential Shooting Mode usually found on more expensive or larger digital cameras. Connect using USB with either a built-in USB connector or with the included USB connection cable. Files can be saved to SD, SDHC or ultra-high capacity SDXC (up to 64GB) memory cards.
Main Features: VPC-PD2BK
Full HD videos, 1080 30p (1920 x 1080 pixels)
10-megapixel photos
3x Optical Zoom
Stereo Sound Recording
Compact, candy-bar type form factor
37mm wide-angle lens
Compatible with SD, SDHC, or SDXC (up to 64GB) memory cards
Mini-HDMI port
Rechargeable lithium-ion battery
Rechargeable via USB port
Size: 2.48(W) x 0.87(D) x 4.36(H) inch
Weight: 3.7oz
"Now users have both a convenient, ultra easy form factor and archive quality photos and videos that they will be proud to display on their HDTVs or share with friends and family from their computer."
— Tom Van Voy, VP and GM, Digital Solutions Division for SANYO North America