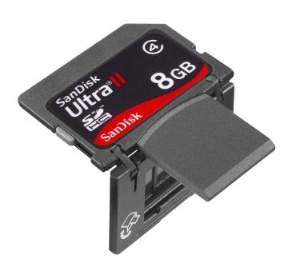 Designed for Camcorders and Digital Cameras That Capture Still Images and Video, New SanDisk Cards Offer 50 Percent Faster Read and Write Speeds; 32GB is Industry-Leading Capacity
Giving photo enthusiasts the freedom to take more pictures and shoot more video, SanDisk Corporation (NASDAQ:SNDK) today increased both capacities and speeds in its SanDisk Ultra II line with the introduction of 32- and 16-gigabyte (GB)(1) SDHC™ cards and an 8GB SDHC Plus card. The announcement was made at the photo industry's PMA 08 International Convention.
Ideal for today's camcorders and point-and-shoot digital cameras that can record both video and still images, the cards offer faster read and write speeds of 15 megabytes per second(2) (15MB/sec), up from previous speeds of 10MB/sec read and 9MB/sec write in the SanDisk Ultra II line.
"As cameras offer more megapixels and as new high-definition 'record-to-memory-card' camcorders are being introduced, the image sizes and files get bigger, requiring higher card capacity," said Susan Park, senior product marketing manager for SanDisk Ultra II cards. "Cameras also are increasingly used for recording video clips, which demand even more memory and capacity. These mega-capacities in our SanDisk Ultra II line give users the worry-free ability to capture thousands of their memories and hours of HiDef video on a single card, while the faster write speed can reduce the time between shots and the faster read speed reduces time spent waiting to copy those images to a computer," she added.
The 32GB Ultra II SDHC card, which is the industry-leading capacity and will be the highest capacity consumer flash memory card that SanDisk produces, will be able to store more than 8,000 high-resolution pictures or up to 40 hours of video(3). A SanDisk MicroMate™ USB 2.0 Reader — a $20 value — is packaged with the 32GB and 16GB cards, giving users a one-stop solution for capturing, storing and transferring their images.
Beyond speed and capacity, the 8GB SanDisk Ultra II SDHC Plus offers both SD™ and USB functionality in one card. Designed with SanDisk's unique, patented Hinge Lock technology, the card may be inserted into a USB port on any computer. This two-in-one SD-plus-USB feature eliminates the need to carry cables or card readers to transfer photos and videos from cameras. Despite its small size, the hinge is sturdy — having survived more than 10,000 open-close cycles in SanDisk's durability testing.
For camera compatibility, please visit http://www.sandisk.com/compatibility.
Expected pricing and availability
The 32GB SanDisk Ultra II SDHC card with MicroMate USB 2.0 Reader has a manufacturer's suggested retail price of $349.99. The 16GB card with reader has a suggested price of $179.99, and the 8GB SanDisk Ultra II SDHC Plus card has an MSRP of $99.99. The 16GB and 8GB cards are expected to be available worldwide in March, with the 32GB slated for shipping in April.
For more information on SanDisk's entire line of award-winning memory cards for the professional to the avid weekend photographer, visit http://www.sandisk.com.
SanDisk Corporation, the inventor and world's largest supplier of flash storage cards, is a global leader in flash memory — from research, manufacturing and product design to consumer branding and retail distribution. SanDisk's product portfolio includes flash memory cards for mobile phones, digital cameras and camcorders; digital audio/video players; USB flash drives for consumers and the enterprise; embedded memory for mobile devices; and solid state drives for computers. SanDisk (http://www.sandisk.com/corporate) is a Silicon Valley-based S&P 500 company, with more than half its sales outside the United States.
(1) 1 gigabyte (GB) = 1 billion bytes.
(2) Based on SanDisk internal testing; performance may be lower depending upon host device. 1 megabyte (MB) = 1 million bytes.
(3) Approximations based on images with an average file size of 3 megabytes (pictures) and hours of MPEG 4 video (640 x 480, 15 frames per second, 1536 kbps video). Actual numbers may vary depending on camera model, resolution and compression.
SanDisk's product and executive images can be downloaded from http://www.sandisk.com/corporate/media.asp
SanDisk's web site/home page address: http://www.sandisk.com
SanDisk, the SanDisk logo and SanDisk Ultra are trademarks of SanDisk Corporation, registered in the United States and other countries. MicroMate is a trademark of SanDisk Corporation. SD and SDHC are trademarks. Other brand names mentioned herein are for identification purposes only and may be the trademarks of their respective holder(s).