Packaged and designed with environmentally responsible components
The Samsung has announced their second "green" device named the Samsung Restore (SPH-M570) from Sprint. It features the Sprint One Click customizable user interface and offers environmentally conscious customers the perfect blend of technology with an environmentally friendly design.
Samsung Restore will be available this summer in from Sprint for $49.99 with a new two-year service agreement, after a $50 mail-in rebate (taxes and surcharges excluded).
"Samsung Restore qualifies for the Sprint Eco-Logo and builds on Sprint's commitment to leading the wireless industry in environmental responsibility," said Kevin Packingham, Sprint senior vice president-Product Development. "We had great success with our first eco-friendly device, Samsung Reclaim, and have found that consumers want eco-friendly devices without sacrificing technology. Restore provides both and continues Sprint's great environmental commitment and legacy."
Samsung Restore is a full-feature messaging whiz, offering a slide-out, full QWERTY keyboard with optical joystick, 2.0 MP camera and camcorder, MP3 player with microSD card slot (supports up to 32GB; 2GB card included in the box), Stereo Bluetooth wireless technology, access to Sprint Family Locator, Sprint Football Live, Sprint Navigation and Sprint TV. Customers can easily e-mail or send texts to their family and friends in a flash. Samsung Restore will be available in two vibrant colors — Midnight and Limeade.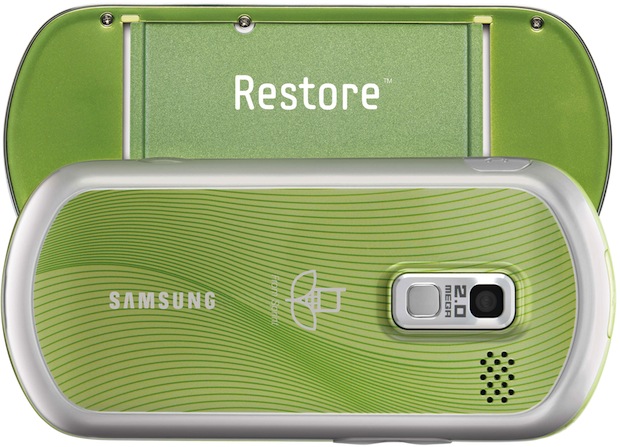 "Samsung Restore follows the success of Samsung Reclaim, our first eco-friendly device with Sprint," said Omar Khan, chief strategy officer for Samsung Mobile. "Restore builds on Samsung's overall commitment to the environment, which includes developing devices with eco-friendly components, including casings, reduced and recyclable packaging and Energy Star qualified chargers. Restore offers users an impressive feature set and stylish design ideal for multiple messaging capabilities."
Earth-friendly design

Samsung Restore and its packaging are designed with environmentally responsible components:
The outer casing contains 27 percent post-consumer recycled plastic and the handset as a whole is 84 percent recyclable.
Restore meets strict RoHS standards and only has low levels of environmentally sensitive materials (PVC, BFRs, Phthalates, Beryllium).
The device is powered by an Energy Star Version 2.0 qualified energy efficient charger (level V); with standby power loss less than 30mW.
The packaging is 100 percent recyclable, featuring a cardboard box made from 70 percent post consumer materials and printed with soy ink.
The paper manual has been replaced with an online user manual, which users can access once the device is available this summer.
Restore comes pre-loaded with Sprint's One Click Green tile, giving users instant access to a collection of green, earth-friendly information and tips, including: Best of Green, a well-rounded collection of information to inspire a greener lifestyle, and Planet Green, providing tips and information to help make your life a little greener. Samsung Restore includes a unique typographic default ringer with a song called "Mother Earth." It also comes pre-loaded with eco-oriented ringers and screensavers.