Ultra-Compact Camcorders Offer Full HD Video, Built-in USB and HDMI Connectivity
Samsung extended its family of ultra-compact camcorders with the introduction of two new models, the HMX-U20 and the HMX-U15. Building on the success of the Samsung HMX-U10, the new HMX-U20 and HMX-U15 bring new features and functionality to Samsung's ultra-compact camcorder family, such as a built-in USB connection, which now makes it easier than ever to not only record, but share full HD video with others. Adding even more, the new HMX-U20 now puts a true 3x optical zoom in the palm of consumers' hands, allowing for additional creativity when recording life's special memories.
"Thanks to consumers' demand for portability and ease-of-use, the ultra-compact camcorder category has exploded in growth," said Mr. SangRyong Kim, Senior Vice President of Camcorder Team, Samsung Electronics. "The new HMXU20 and HMX-U15 offer not only portability and ease-of-use but also a number of versatile features like time-lapse recording that allow users to easily capture and share life's important moments the way they see them."
High-Quality Video and Digital Stills

The HMX-U20 and HMX-U15 come fully equipped with high-performing 1/2.3 inch CMOS sensors which help capture stunning, 1920×1080 full HD resolution video (30p / H.264). In addition, the ultracompact HMX-U20 and HMX-U15 also boast impressive digital still image capability. With the HMXU20, consumers can capture 10 mega-pixel digital still images, while the HMX-U15 shoots 14 mega-pixel digital still images. This impressive digital still capability eliminates the need for consumers to carry a separate digital camera as everything they'll need is in one, ultra-compact device. The camcorders also include Hyper Digital Image Stabilization to help produce blur-free video and the HMXU20 adds even more versatility with a true 3x optical zoom. Consumers can also get creative with their video thanks to fun and unique features such as time lapse recording, which allows users to program the camcorder to record at a pre-set interval of one image every one, five, 10 or 30 seconds. Time lapse recording is especially useful for condensing extremely long events, such as rolling clouds on a sunny day, into a short, easyto-view video.
Easy Connectivity
The HMX-U20's and HMX-U15's built-in, swing-out style USB connection gives users the ability to forego having to always carry a separate USB cable to connect and upload footage to a computer. The built-in USB connection can also recharge the camcorder's battery, eliminating the need to transport a separate charger while on-the-go. Furthermore, the HMX-U20 and HMX-U15 offer HDMI connectivity, allowing consumers to enjoy their full HD video on their HDTV.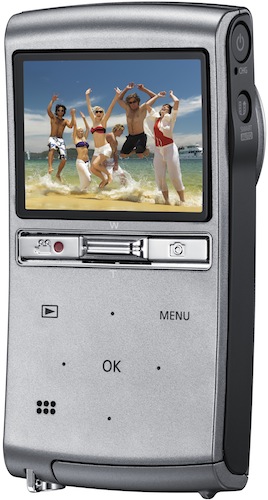 The HMX-U20 and HMX-U15 also feature Samsung's playeditsharing program, called intellistudio. This intuitive program allows consumers to turn any computer into a mobile studio, giving them the ability to edit and play their video without having to install supporting software. Sharing is also simplified thanks to a one-touch "upload" button on the HMX-U20 and HMX-U15. When connected to a computer with an internet connection, the one-touch "upload" button links directly to popular destinations such as YouTube™, reducing the number of steps needed to upload footage to content sharing Web sites.
Designed for Portability and Comfort
The Samsung HMX-U20 and HMX-U15 are extremely portable with dimensions of just 2.1″ x .61″ x 4.09″. In addition to their compact size, the HMX-U20 and HMX-U15 are also highlighted by a unique design that's as ergonomic as it is stylish. Designed to make the camcorders more comfortable to hold, the camcorders' bodies are angled at seven degrees which encourages a more natural grip reducing overall stress on the user's wrist and arm.
Specifications

HMX-U15
HMX-U20
Image Sensor
1/2.3″ CMOS
1/2.3″ CMOS
Lens
1X, Auto Focus
3X Optical Zoom
LCD
2-inch LCD
2-inch LCD
Image Stabilizer
Hyper Digital Image Stabilization
Hyper Digital Image Stabilization
Memory
SD/SDHC
SD/SDHC
Interface
USB 2.0 (swing-out)
HDMI
USB 2.0 (swing-out)
HDMI
Unique Features

1920×1080 Full-HD Video
14MP Digital Stills
H.264 Video Format
Ultra-Compact Design
Seven Degree Angled Grip
HDMI Connectivity
Built-in USB (swing-out)
USB Charging
Hyper Digital Image Stabilization
Built-In intelli-studio2.0 Software
One-Touch Upload to YouTube

1920×1080 Full-HD Video
8MP & 10MP Digital Still
H.264 Video Format
Ultra-Compact Design
Seven Degree Angled Grip
HDMI Connectivity
Built-in USB (swing-out)
USB Charging
Hyper Digital Image Stabilization
Built-In intelli-studio2.0 Software
One-Touch Upload to YouTube
3x Optical Zoom

Color
Black, Silver, Blue, Red
Black, Silver, Blue, Red
Availability
Spring 2010
Spring 2010
Pricing
$229.99
$249.99